A single thought I've had ingrained in my mind for over a decade now was a picture that a man named Terrell, the Captain of "Harriet L", shared with me from his personal scrap book. It was of a 500lb Bluefin tuna! He shared this with me immediately following an offshore trip I took with him about 12 years ago and I just COULD NOT wrap my brain around how it was even close to being realistic for a fish with such supremacy to be caught when I just broke a sweat and felt liberated reeling in a 90lb Yellowfin that, I must admit, just kicked my butt... or so I thought. It blew my mind. I'm not gonna lie... I've basically been "hooked" for life ever since my first offshore adventure with my Uncle Brain & Craig Brosenne when I was only 10 years old fishing off "The Outlaw" out of Nags Head, NC. The burning and numbness, and adrenaline of course, of my arms and back, even at age 10 captivated me and had me questioning endless dreams and possibilities. The thrill of giving it all I've got and not knowing who, myself or the respected fish I was fighting on the other end, would finally prevail in these struggles of dominance literally "hooked" me for for life.
It has been a long road in the hunt for giant tuna. From those 60 mile offshore trips in O.C. MD with only a dream and a random shot in the dark at a 3-400lb tuna to planning those trips to OBX NC mid-winter when the giant Bluefin make their quick stop to feed before heading off somewhere in the Gulf. I have landed some nice tuna but it always seemed that I'd end the day dreadfully shy of my personal goal… the seemingly unachievable 500 pounder. The more trips I planned the more Prince Edward Island kept coming up. With some research I became shockingly aware that 1000LB tuna where being caught off this remote island on a regular basis! A place known as North Lake on Prince Edward Island is known to be "The Tuna Capital of the World". So, that's when it started... Anytime that anyone asked me where I would want to go to catch a Monster tuna, the answer was a no brainer. I would say, "PEI land of giants".
With the here and there pictures of MONSTER tuna in magazines and some fishing shows confirming the existence of these mini submarines being hooked up, I couldn't put it off any longer. I started planning this trip of a lifetime and FINALLY my dream became a reality!
I have been on offshore boats many times where the Captains would look at me like I was a damn fool for wanting to stand up to fight fish. It didn't matter if we were after school yellowfin, or chunking for 80-150lb Bluefin. They wouldn't even think about it. After a few trips on boats with the same Captain's, I, finally, was able to stand up and belt some decent size fish. With all the new gear available these days, I began talking to pro's who share my basic mentality about stand-up fishing & heavy drags. Eventually, I decided to call on the best man I could think of to ask which Captain would let me "Stand Up" to one of these giants. I contacted Dennis Braid and without hesitation, he recommended a family owned, father & son charter known to be Tightline Tours in PEI. Thanks Dennis!
I called and spoke with the Captain's of Tightline Tours, Greg & Spencer Norton. They were more then willing to let me battle these beasts in stand up gear. So… that was that and I anxiously secured my dates on his books. The excitement of trying to catch a 1000lb tuna in stand up gear had my mind racing... Can my gear do it? Will my rods be able to hold up? All those thoughts got me testing lines, reels and rods to the MAX. With the smaller reel craziness that has been going on lately, I decided that I was going to accomplish this using a 50w Avet and a Super Seeker 3x. I spooled the Avet 50w with 900 yards of 130lb Sufix performance braid to a top shot of 130lb Izorline first string. I brought along the big brother Avet 80w spooled with 1100 yards of 200lb Jerry Brown hollow topped off with Izorline first string for back up.
My good buddy, Ryan Orndorff decided to try his luck on these monsters along side of me when he agreed to be my partner in crime for the many hours we were about to spend together.
We packed the truck and headed north for 3 days of fishing with Captain Spencer aboard TightlineTours.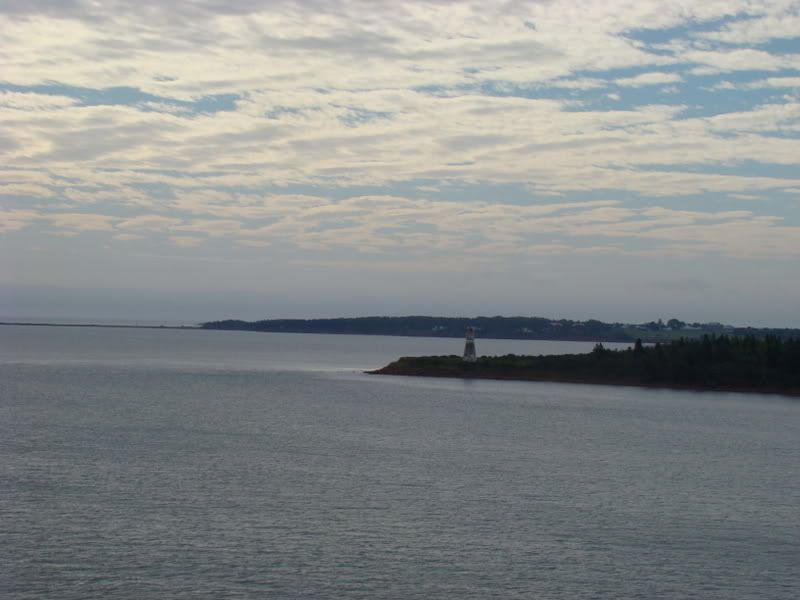 The drive was around 20 hrs but with all the good fishing stories and the excitement of our fishing ahead, the time passed quickly .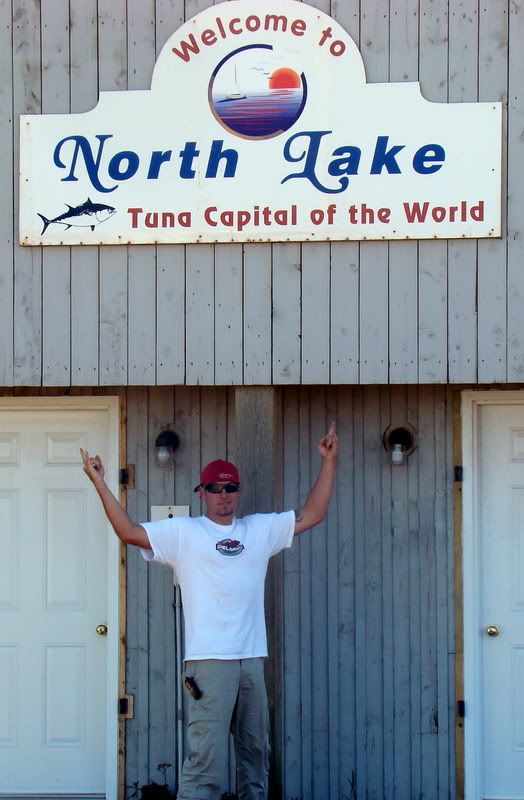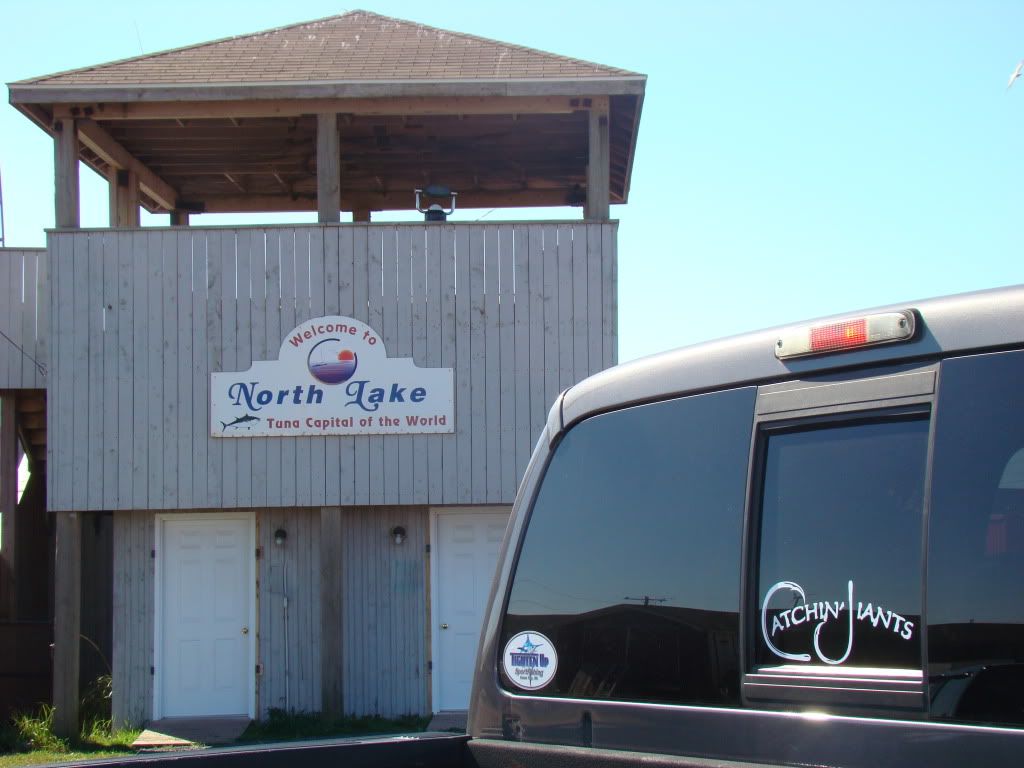 We arrived in North Lake right about lunch time with just enough time to have some great food from the only restaurant nearby and take in the beautiful scenery.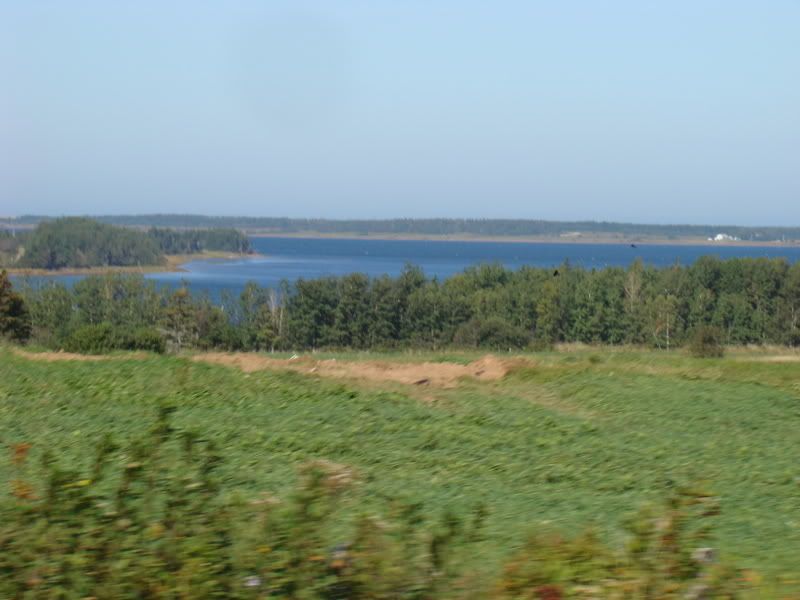 I called and talked to Captain Spencer and decided to meet him at the marina to go over gear, set the drags and prepare Ryan and I for the days of fishing that lied ahead.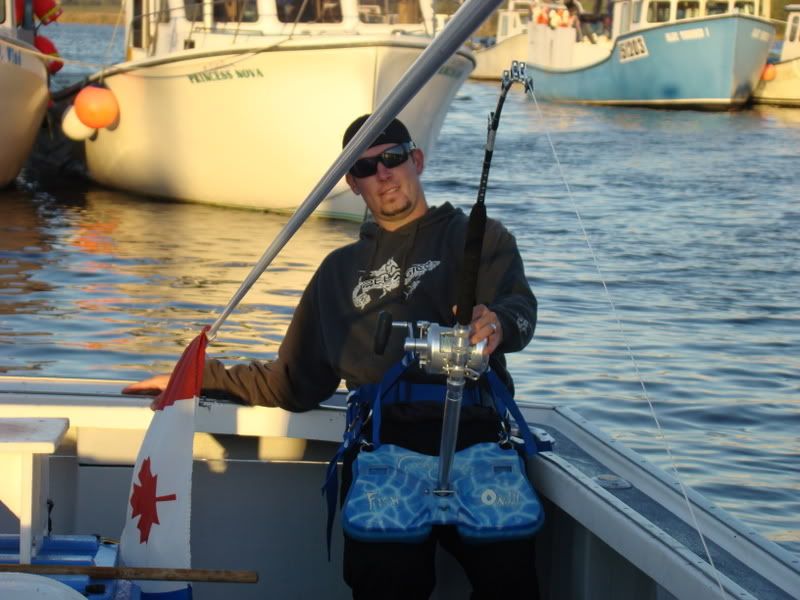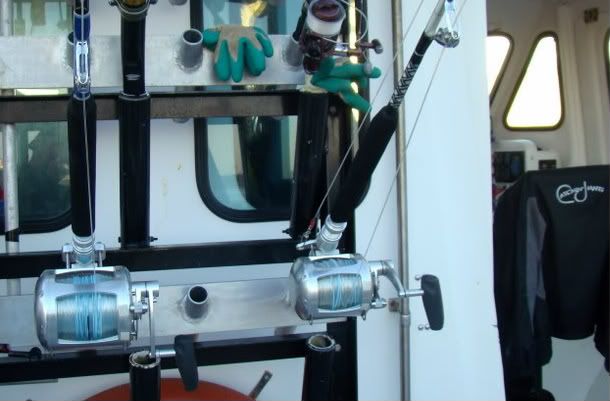 Spencer was full of great knowledge and it was easy to see that he knew what he was doing. At 21 years old, this guy had more giant BFT under his belt then about every avid fisherman I knew. His story of a potential new world record recently caught aboard his boat the week before, estimated at approx. 1600lbs and that had me fired up! The plans were set, drags were set, leaders were built, and the hopes of Catchin' Jiants was heavy on my mind. So back to the hotel we went for some much needed R&R.
We didn't log much sleep due to pure excitement and arrived at the dock that morning at 7AM sharp. Spencer knew the Tuna would be fired up due to the herring boats that could be seen from our hotel room all night long. As we left the small inlet port, you could already see the huge schools of birds behind the boats.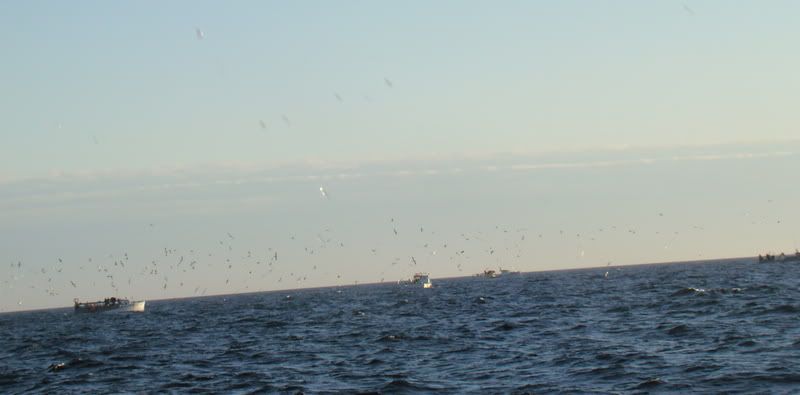 The feeling of fishing for giant tuna only 1.5 miles off the beach was crazy. I am used to a 2 hour boat ride before reaching the fishing grounds. It seemed as if we just wound up the diesel when the Cap pulled back on the throttle right beside a herring boat pulling his net. It was not seconds before I looked in the water to see a small school bus blow up at the side of the boat! The ole' knot in the stomach, a racing heart rate and surging adrenaline came on strong. The mate, Norbert, threw over a few herring as I looked over the gunwale to see a 8-900 pounder destroy the floating herring, spraying water all over the boat. Sorry about the video... I had forgotten to turn the night vision off from shooting the night before.
My God, we were only 20 minutes into this first day when Spencer said, "go ahead and suite up"! I am not going to lie... I was nervous!!!!!!
So there I was, all suited up with the Seeker and Avet 50w ready for my first true battle with a dinosaur of a fish. Standing next to the Cap, strapped in, he asked if I was ready? Just a simple grin and yep from me, he tossed over the Owner 16 circle baited with a fresh herring.
As I watched the bait start to sink, in what seemed at the time like slow motion… out from under the boat came a submarine size tuna that **** that herring right down.
I only waited about a second before pushing the drag lever forward feeling the sheer weight of the fish... FISH ON!!! I pushed the lever over on the Avet to around 35-40lbs and it seemed like I went into free spool. The seeker folded over and Avet was singing a heavy metal song as the tuna peeled off line. There was a ton of herring nets and buoys around so after a 150-200 yard run, I eased the drag up to the button which was set at 48lbs… nothing changed... the line continued to just scream off the reel. I looked at Spencer for advice. The fish was heading right for a herring boat pulling a net. "Should I try and stop him?" (meaning the tuna of course) I asked. Spencer said yea so I did not hesitate to throw my drag to full. Between the amount of line in the water and smaller spool, I would estimate I had over 60 pounds of drag on this fish. The fish slowed down a bit but it was too late. He cut me off on the net. "WOW!!!" is all I could say.
It was nice to get the first time jitters off my back. Lucky the fish cut me off right at my wind-on, so I didn't lose much line. We re-rigged this time PEI style with just a wind-on swivel attached to 12 foot of 400lb fluorocarbon. I had just almost recovered from the adrenaline shakes when Spencer asked again, "Are you ready?". "Yep!"… I tossed over the bait and before I could blink an eye, my reel, was once again singing the best tune ever! "FISH ON"! Spencer looked at me and said that this was a "BIG" fish. Go 50w!! Go!!!, I thought. LOL
Thankfully, this fish headed in the right direction away from nets. The first run was shorter this go round, so once the fish slowed, it was time to put on the heat. I pushed the lever to full on the Avet 50 and started to pull with everything I had.
To my surprise I gained a fair amount of line back, of course with the boat helping as it started backing down on it. So, I asked the Cap not help so much… I told him, I wanted to battle these giants & that's why I came here! After hearing me say that, Spencer had no problem putting the boat right into neutral. That changed the fish drastically as he peeled off every inch of line plus some under full drag! BRING IT ON!!!
I had told my buddy Ryan in advance, that if he ever saw me resting while I was hooked up to scream and yell at me. I told him that if we rest... the fish rests. So, as any good friend would, in mid-combat, Ryan gave me a few kind words from one sailor to another. LOL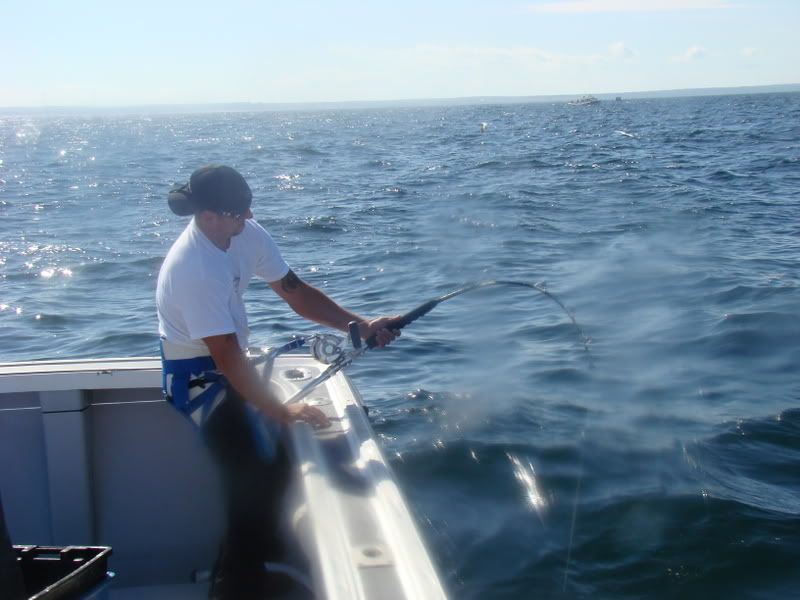 The Super seeker and Avet broke this tuna's will and finally coerced this fish to surrender. In only 33 minutes from start to finish this giant of Jurassic tuna was along side the boat.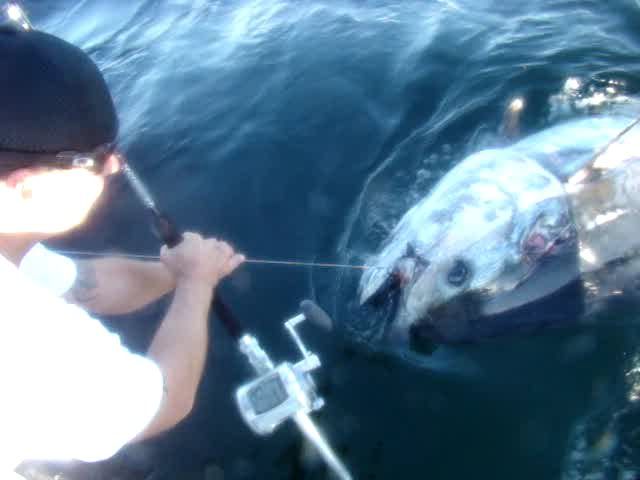 Spencer first told me it's approximated weight was 900lb's but when that fish rolled sideways and he saw the width of this giant, with no hesitation... he said those words I have waited a life time to hear, "GRANDER!!!". Man!... The smile on my face is still here!!!! It was a quick picture as we pulled the beautiful giant along side the boat making sure we got it well revived. Spencer reached down cutting the leader, pushed it's head down and I stood fascinated as this giant disappeared with a simple kick of his tail.
I literally had to sit down and take a moment to realize what just happened. I was so happy that all the practice along with my chosen setup, the Super Seeker 3x, Avet 50w spooled in the 130lb class took this much anticipated abuse with ease.
It was still early but the rules in P.E.I clearly state that given my morning success, that would be a wrap for me on Day 1. I did, however, get to feed some giants a popper on a spinning outfit which was a freaking blast. The videos you see online definitely do this no justice at all. When you're standing there in person and see a giant tuna cartwheel out of the water, 30 feet off the back of the boat... there is nothing like it. Absolutely insane out there!!!
We headed back in to grab some lunch, then back at it for Ryan's fish.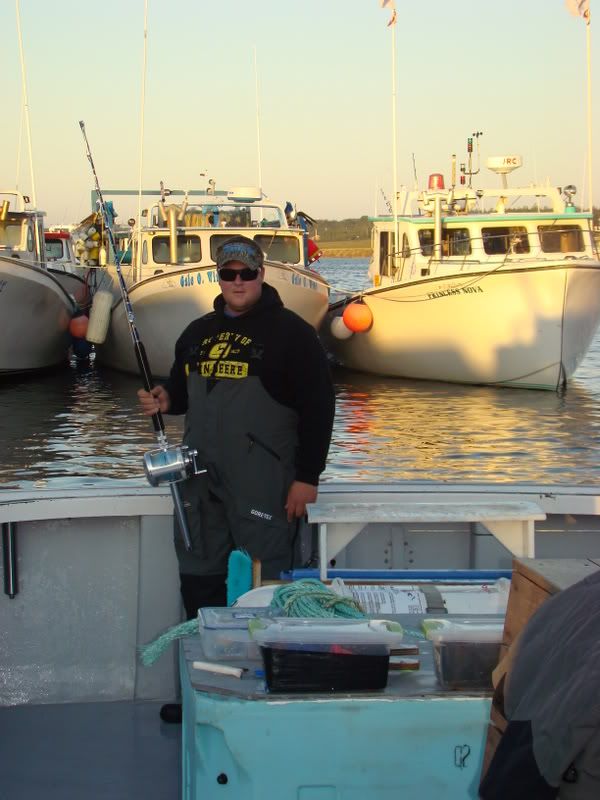 Ryan is a fairly new fisherman but over the past few years he's inherited what some might call, the sickness for fishing. He caught his first White Marlin just 3 days before this trip and landed some nice school sized YFT over the summer. Ryan had never fished in full harness before and the most drag he had used prior was probably 25lbs. The night before we spent some time practicing. We went over things such as the pulling of heavy drags and just getting comfortable with the Avet 80w power. Everything seemed to come very natural for him. We hit the fishing grounds again and with Spencer knowing right where to go, he pulled the throttle back and this time told Ryan to "suit up!".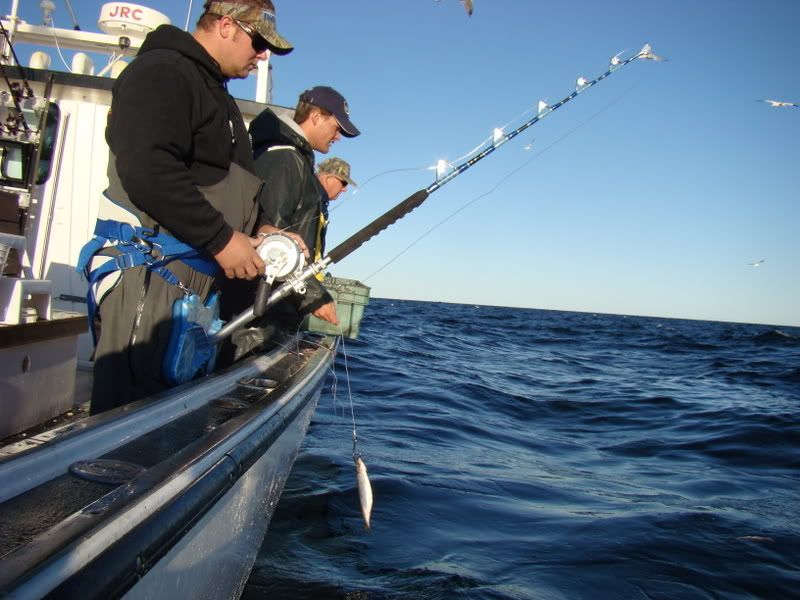 This solid glass rod and 80w were set at 55lbs of drag on the button and over 60lbs at full blast... Once again, it was on! Spencer had him hooked up in no time... "FISH ON!!!"
... with a short power run, Ryan did not even hesitate to throw the Avet 80w to straight up full drag. "S%*!" We pulled the hook.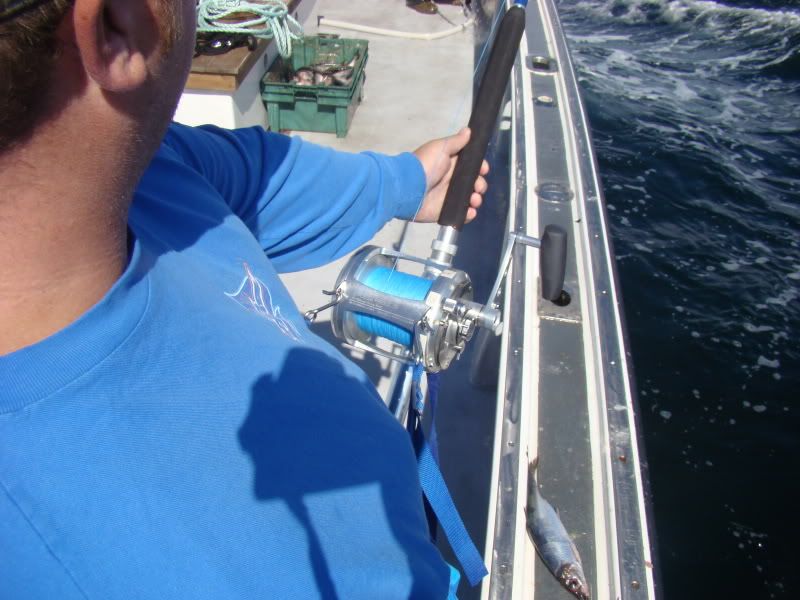 The Cap just did a little turn around with the boat and once again, "FISH ON!!".
Ryan felt the need to set a record with this fish OR maybe I had just scared the living crap out of this big guy so he wasn't taking any chances. It made a short run, then it slowed. Ryan knew it was time to put it to him! Ryan slammed the 80w to full, started yelling at the fish and began doing what I refer to as "the mad man tuna pump". I know it's hard to believe but this fish was leadered in 16 minutes and it was a true giant breaking the 1000lb mark with ease.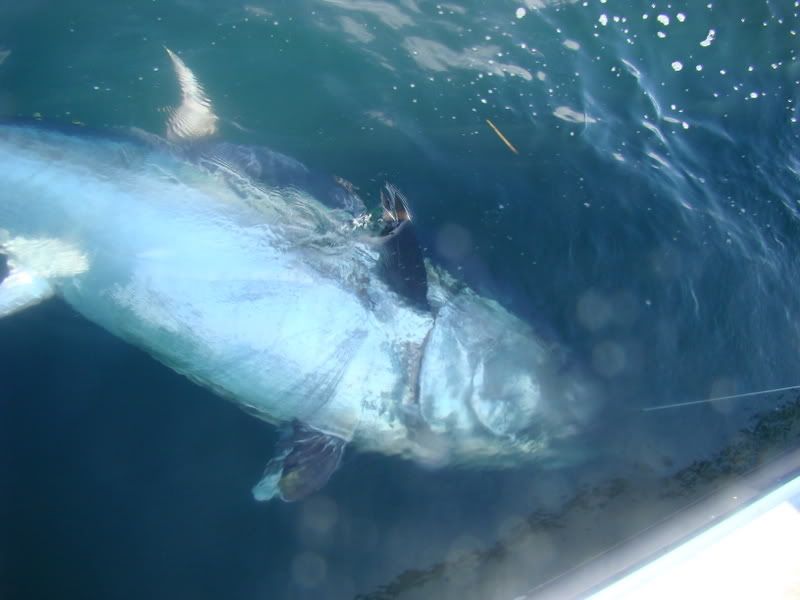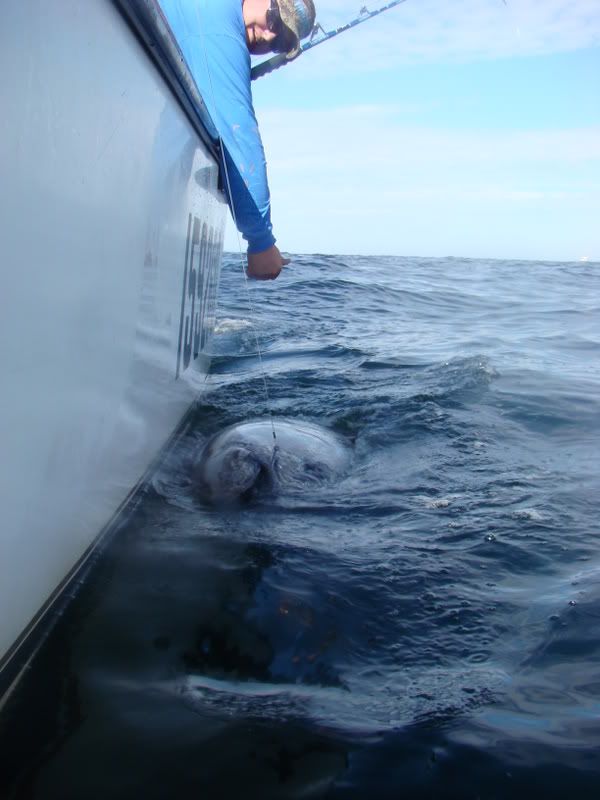 I'm sorry. I have to say that again it feels so good... We leadered over a thousand pound Tuna in 16 minutes in stand up gear! The Avet 80w was spooled with 200lb Jerry Brown and topped with 130lb first string Izorline. The gear was flawless.
I thought I would sleep good that night but even when my eyes were closed, I kept seeing giant tuna. We were back at it the next morning. This time, Ryan was first up. The herring boats were thinning out but we got right on the fish again. Some herring got tossed over the boat and got the tuna fired up quick.
Here's a quick picture for those of you that don't know what a blocker rig is:
The blocker rig is a design put together from Captain Mark Sampson, out of Ocean City, Maryland. It is designed to keep fish from swallowing the hook, preventing a gut hook situation (mostly in sharks) to ensure that protected species of shark stay alive along with our love for the sport. They really do work well in preserving the life of shark and don't seem to sway the fish either way when it comes to it taking the bait. Knowing that, I decided that I would put some together for this P.E.I. trip and give it a try on the BFT. I got 1/2 inch clear PVC (the actual color is named water) which is supposed to be crystal clear and invisible in the water. I cut the PVC at 14 inches long, drilled a small hole for the 200lb flouro to go through and crimped it on the leader 7 inches away from the hook eye. What this does is when a fish takes the bait, it only allows the hook to go 7 inches into the mouth, making it impossible for the fish to become gut hooked. I know circle hooks will end up in the corner of the mouth 99% of the time but who wants to kill a catch & release or protected fish? Not me! The bad news is that most (including myself before this) may think these tuna will eat whatever hits the water but that is certainly not the case at all. The tuna would come up to the bait like they where going to smash it but steer away from it at the last second. I will continue to study it and try and come up with something undetectable but for now, the conclusion stands... it just didn't work on giant bluefin tuna.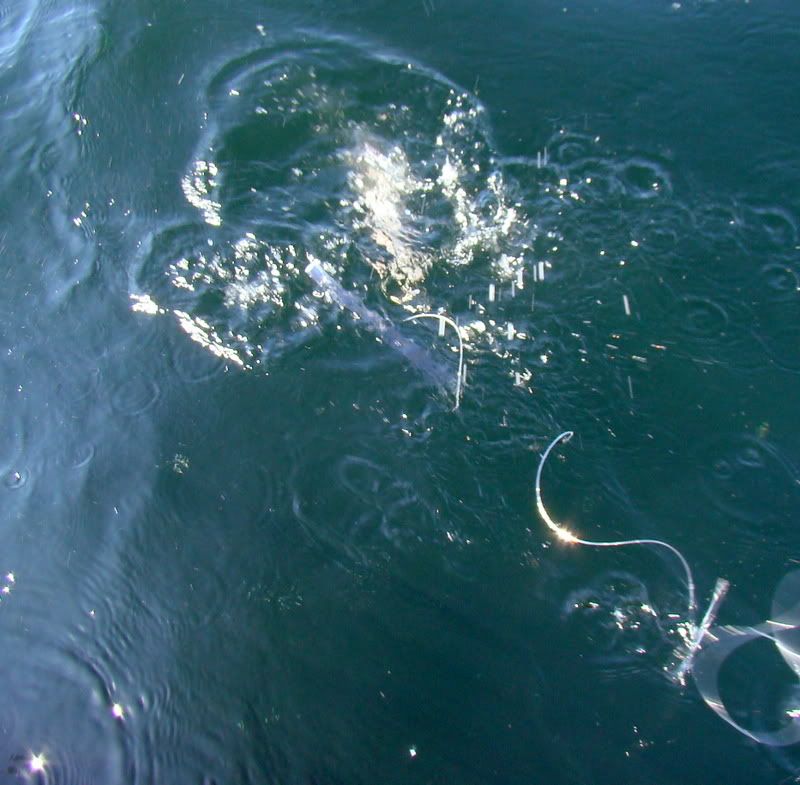 I couldn't believe how finicky these fish were. I have a tendency to use Mustad 20/0 circles a lot and usually wrap them in red tape when shark fishing. The tuna would not touch a bait with red tape on the hook and would even shy away from a raw silver hook. The black Owners were the ticket. It was tough to get them to bite anything else.
Back to Jurassic tuna land! Ryan was itching to hook up after I used him as the Guinea pig for testing my rigs. He had been tortured enough after watching endless giants come at the bait I was testing only to turn away. So, he was ready! We rigged up a black circle hook, pulled up to a herring boat, tossed over the bait and got slammed.
Ryan pushed the Avets drag to the button and this Tuna almost stopped, it was only a short run so I thought he was getting ready to get blasted. Like instructed, Ryan slammed the Avet to full and started horsing on that fish like nobody's business. LOL There were a few times when the tuna made a run and I thought my buddy was going swimming. He fought this thing like a pro and in under 15 minutes we had another monster Tuna along side the boat.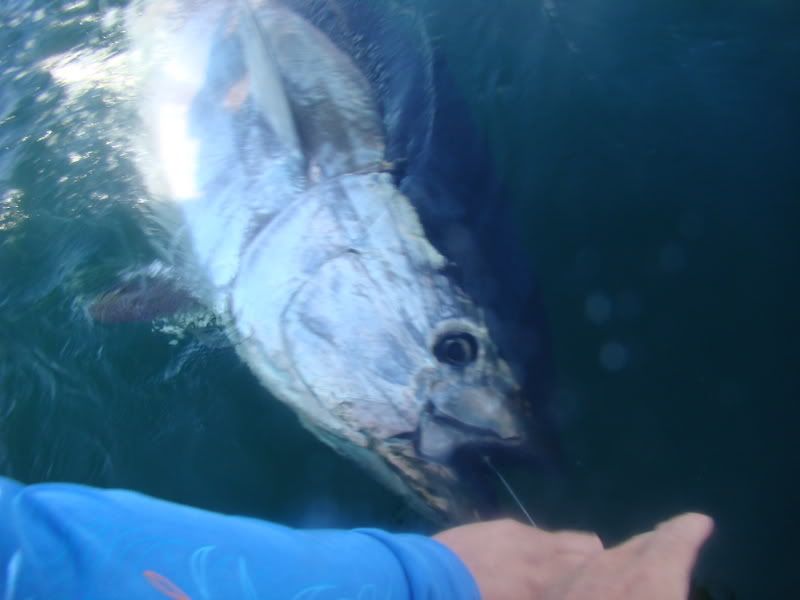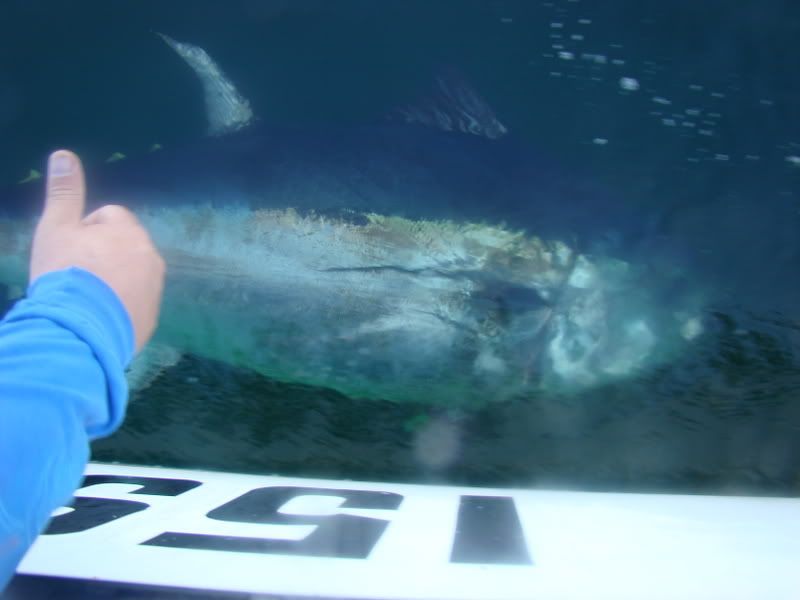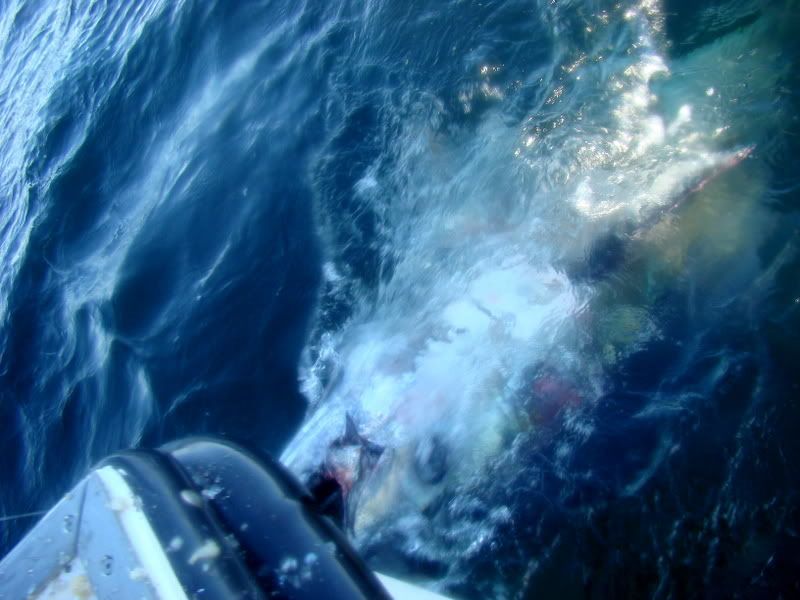 Spencer and I were in aww. This was the second fish Ryan had given the business in a very short period of time. I have to give credit where credit is due. Ryan Orndorff hammered the hell out of these tuna and seemed fearless doing so. He straight up whipped some Tunas butt! By now I am pumped to get behind my reel again so we made the quick trip in for lunch.
It was about high noon when we hit the fishing hole for some more crazy action. I was suited up and ready to go. I think it might have taken Spencer about 5 minutes to get me hooked up again. I don't know if the tuna could feel that I was the one with the smaller of my reels on board, sticking to the Avet 50w or what... but man!!! Whenever I hooked up the fish would strip hundreds of yards of line before even thinking about slowing down. This specific tuna was one of the smaller fish we saw but still an easy 600lbs. It had me ALL over the back of the boat making diving runs then surface runs.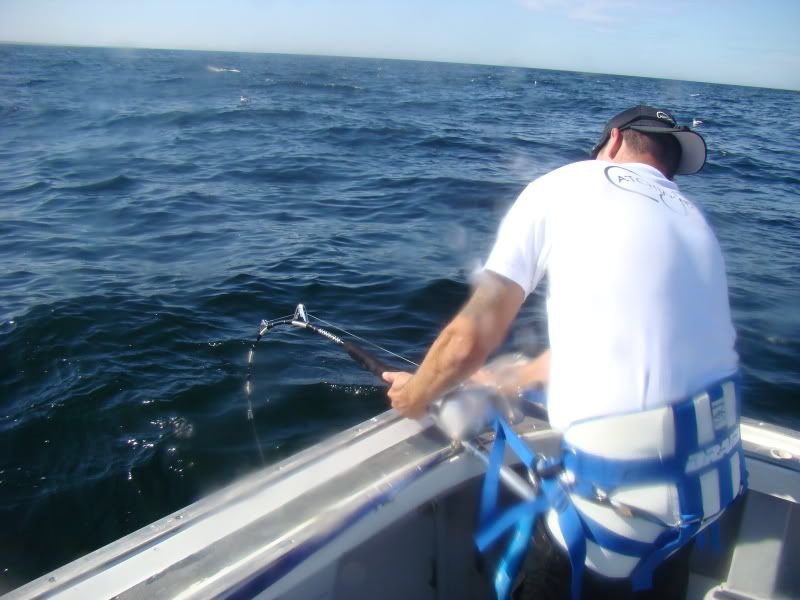 The battle went back and forth for a while but with all the buoys and nets out there I got cut off on my top shot somewhere. What a great fight though. This tuna was MAD as hell!
Round 2, I put on some 400lb flouro and a 16 Owner hook, baited it up with a *** herring, and just waited to hear Cap tell me to go ahead. I watched as some big boys came up and ate the hand tossed herring. With the Caps good word, I tossed my bait over to see a fast moving sub SMASH IT!
Slowly pushing the 50's drag up... "FISH ON!!!!" To me, the sound of screaming drag under heavy drag is by far, my all time favorite SONG!!
Once again the spool shrank as the drag increased. I was just holding on as the tuna made the last of it's first good run before it slowed. It was time to go to work. I pushed the Avet into full and started getting about 2 cranks in low gear per pump. Each time I would think the fish was out of steam, it would quickly remind me why and how they got their reputation as the hardest pulling fish in the ocean as it would steady peel off hundreds of yards of line under full drag. That beast gave me some trouble but I still felt confident that I was in control. And so when it pulled, I'd find the strength in me to pull harder! About 20 minutes into the battle, we had that fish boat side.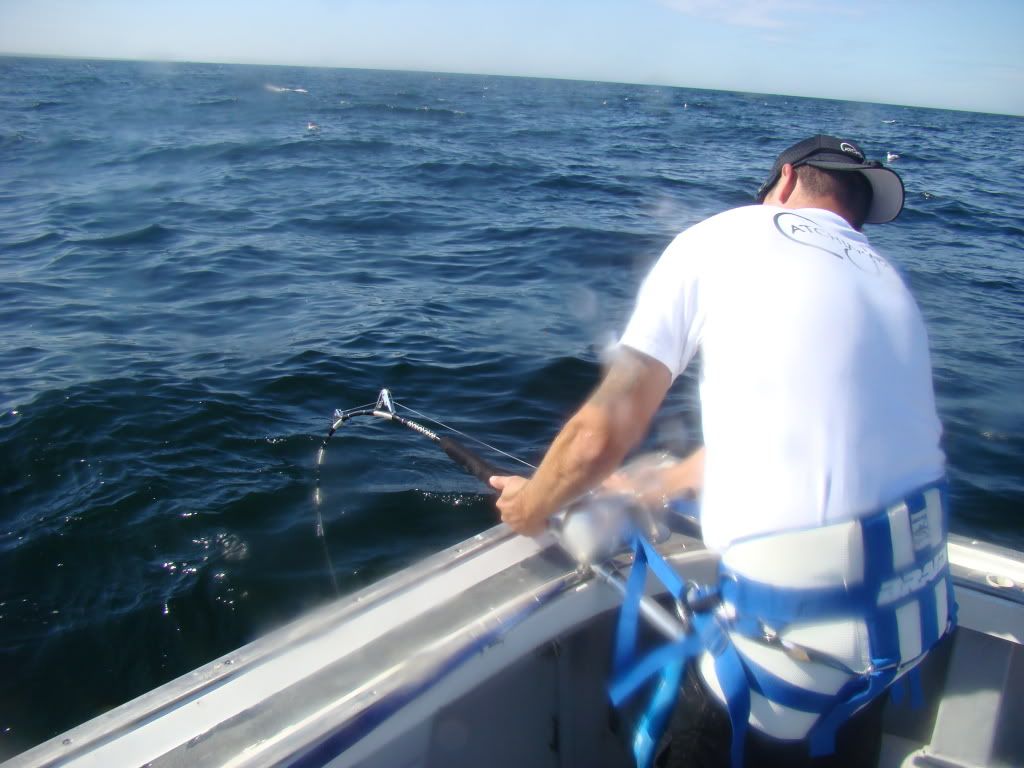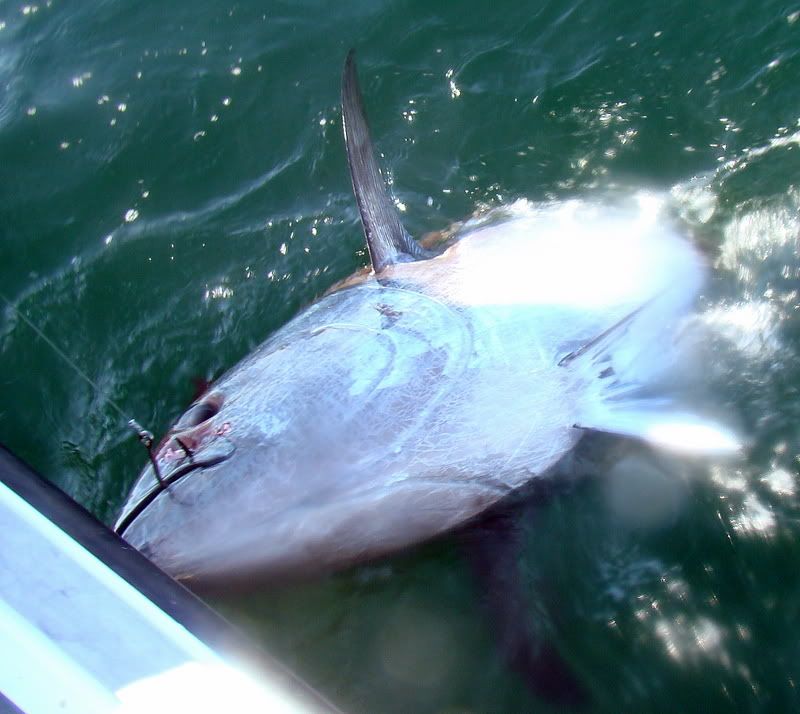 Given that I like to become the wire man on my own fish, we snapped a few quick pictures and were glad to be able to send yet another beast back out into the ocean fully revived and full of spunk! Spencer pulled up on the leader. As he slacked back down I was able to push the hook right out, watching the tuna swim off unscathed.
That concluded day 2 of fishing. We then spent some time out on the water watching as other anglers battled and were able to witness other giants crashin' and smashin' bait behind these herring boats. It had been an awesome day but it was time to head back in.
The night came to a close sitting around the docks talking with others and telling stories. What I had seen and accomplished already would have seemed to be more of a fish tale then a reality and I am proud to say, that was not the case for us. I got to meet some great people from all over and was lucky enough to chat in person to Kilsong. For those who don't know, Kilsong is a world wide known fishermen always putting large fish and small gear to the test. He showed me his set ups and vice versa. It was pretty cool to meet such a nice guy. After a few wobbly pops we hit that same little restaurant for some dinner. We continued swapping stories and thoughts about what the next day would bring and then back to the hotel.
.
We had been a bit spoiled I suppose with the weather but that wasn't the case on our last day. It left a lot to be desired between the 30-35 mph winds and the 8-10 foot seas but I am certainly not complaining. It did, however, mean that our two trips of the day were going to have to be short. It was no problem at all for me and I was relieved that Spencer still seemed 100% confident that, though the herring boats where scattered, he could still put us on the fish. So off we went on a short yet rough ride. I knew the payoff was going to be worth a whole lot more than that small sacrifice.
We were marking fish on the sonar but they were staying deep and seemed hell bent on not busting the surface. A few snacks dropped down and they were feeding for sure. Spencer had hand picked a herring that would sink just right. As we hand lined the bait down to around 30 feet deep, you could watch the tuna on the fish finder actually come up and eat it. Now you know these fish are big when you can say that. With only a few drops Ryan was hooked up... "FISH ON!!!"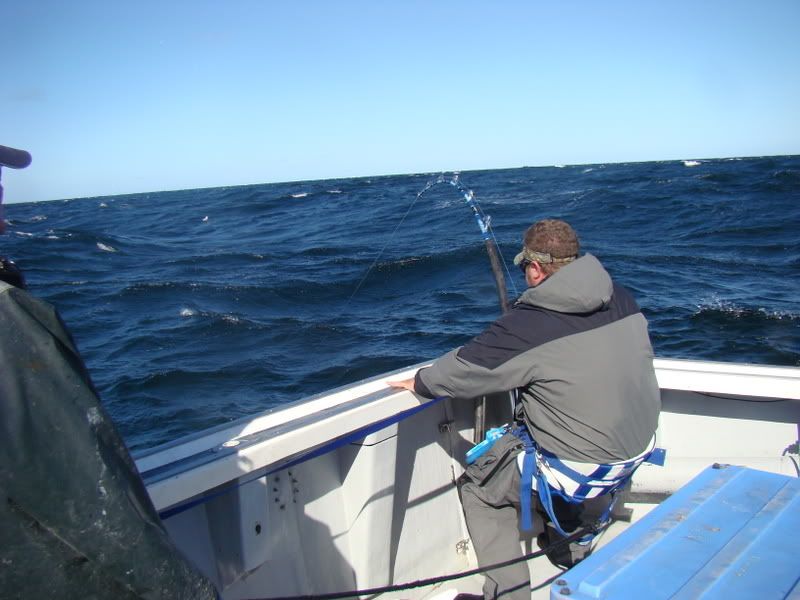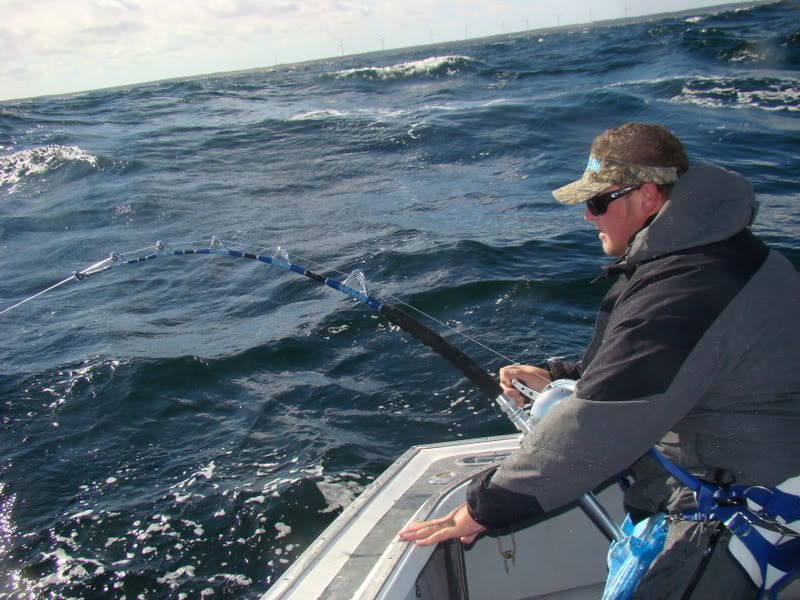 The waves made it difficult to stay off the rail this third day but Ryan, whom I now refer to as the Tuna Tamer, had never the less, just man handled an 800 pounder to the surface in only 5 minutes. With Ryan giving it his all, Spencer went for and was able to touch the leader seconds before it went POP!!!!
The Tuna Tamer, aka Ryan, flew back, landing on his back and laid there on the deck laughing at what just happened! It was great, but I sure am glad he did not hurt himself.
Facing howling winds and heavy seas, we headed back in and awaited our next and final trip out. The inlet is just a little port and it was a blast riding along as Spencer surfed his boat into the harbor like we were on a boogie board! This may have seemed a little sketchy to some but he knew we were having a great time and I was sure that he knew exactly what he was doing. As we arrived back to land, I didn't waste more time than it took to grab a few things from the truck before we rigged up and headed out for my last go at this fishermen's playground. This was it! I had to get a fish on my last day.
With the weather continuing to be uncooperative, Spencer grew increasingly concerned about trying to tackle a beast in stand up gear with the heavy seas. He's fun and maybe some think he's young, but Spencer Norton is still a responsible Captain. He put safety first as we used a double tether to tie me to the boat and we went for it.
With only about six herring left on board, some of which were consumed by diving birds, the bait lasted only a short time and resulted in no bites. Knowing how badly I wanted to hook up, Spencer made a few calls and devised a plan. He came along side the chartered boat that Kilsong was fishing from and borrowed some bait. Given the high seas and gale force winds, our "plan" was to pass a bucket of herring from boat to boat... Oh, sure! No problem! But where there's a will there's a way and well, we did it! A big thanks Kilsong for the borrowed bait.
As we drifted away from the other boat, we observed plenty of marks on the fish finder. Spencer didn't even have to ask if I was ready as I was standing at the rail ready to go. After just a few hand-lined drops, I watched as the line got pulled from Spencer's hand to the tune of my favorite song playing loud, yet again... that tune was buzzin' off my Avet.
Now, I have to tell you that this fish was a freak! It made it's first blistering run, then another and I was starting to get worried because the reel was over the 48lb strike button and I was already close to half spool. The MAD tuna slowed and I pushed the drag to full and started horsing some line back on. I figured with the first two runs this fish would be done. To my surprise, I gained about 100 yards back when this tuna decided "no freaking way" and took off with an ocean thundering need for speed. Again, I had the Avet 50 on full drag and was at about half spool (this means I had nearly 65lbs of drag, if not 70 on this fish). It ran so hard that the Avet was hot and literally smelled like someone left the e-brake on in a car while driving. I was undoubtedly nervous having over 500 yards of line in the water so Spencer had no choice but to turn the boat and go after the fish. As he started to turn the boat, I backed off the drag but it was too late. I got cut off by something on the braid. It didn't matter to me though. The sheer power of this fish was insane and I loved every minute.
But go figure... Spencer Norton had me hooked back up in no time!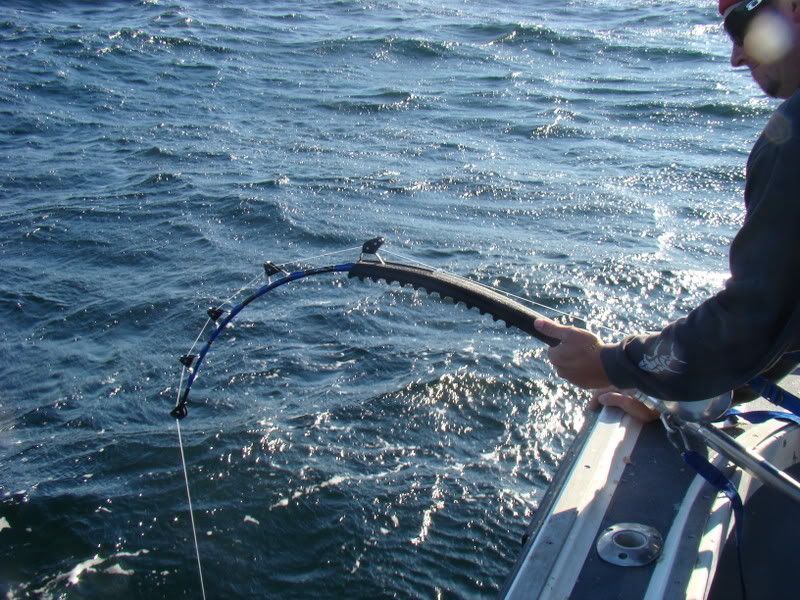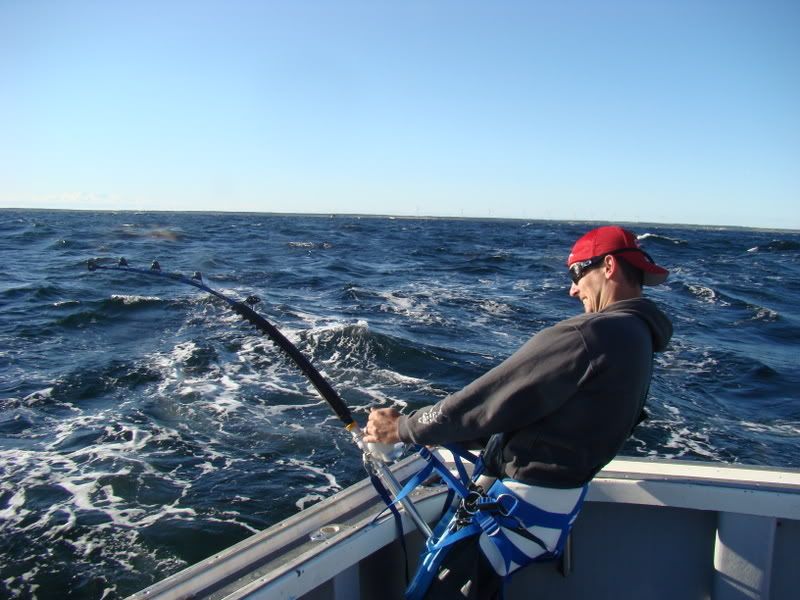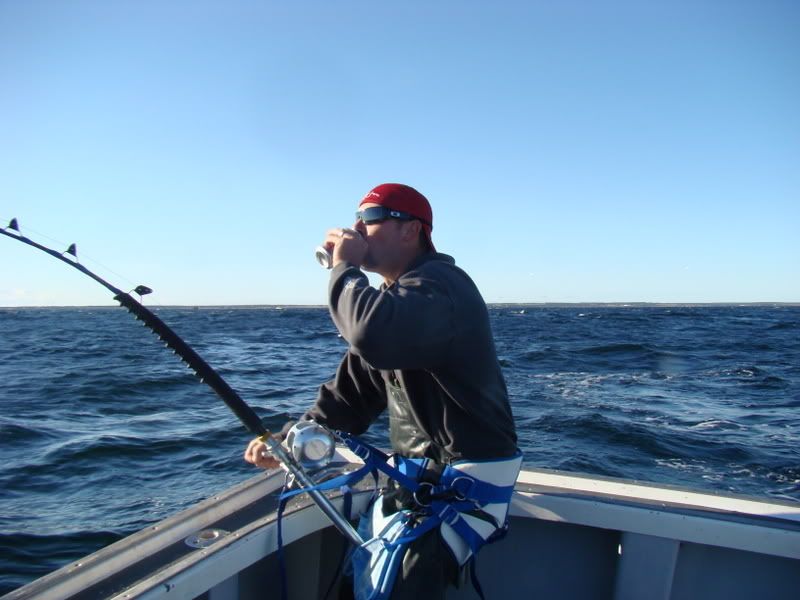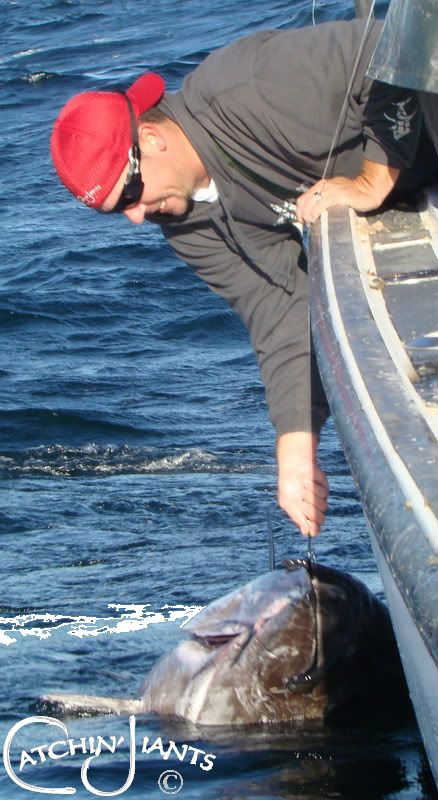 This trip was truly the best trip I have ever had. The power of true Jiants is what and why I fish. There is nothing that comes close to what these fish are capable of doing. For lack of a better term, each one has a unique personality. They differ for sure. Some were calm and cool and some were unstoppable freight trains. That's part of the thrill and the fun of this sport.
I want to offer a HUGE thank you to Captain Spencer Norton on
http://www.tightlinetours.com/
. He is the Man!! If anyone ever wants to try and tame a giant, Tightline Tours is where it's at to make that happen.
Also, I want to thank Seeker Rods and Darin Dohi. The abuse these rods stand up to is absolutely awesome.
Thank you Avet reels for making one "Smokin" 50w and an unstoppable 80w.
Last but not least, I want to thank all the guys who have stayed by my side through the ridiculous testing I do! It all paid off when I locked the drag down on 60lbs in stand up.
I'm beyond honored to tell you...
Destination P.E.I.
CONFIRMED "Catchin' Jiants"
Looking forward to 2012
Video all put together