It has been a slow season for me with so much going on I have not been able to make a beach trip in 4 months. After talking with some fellow sharkers heading down to AI from PA and Haggerstown MD I decided to go meet up with them to try our luck.
I left my home about 10 pm for the beach and arrived in Ocean City MD around 1 am. There is only 3 places I know of to get starter baits for the trip, one is a vending machine at Alltackle two is a bay pier that stays open 24hrs and the last is dumpster diving at the local marina. I hit the dumpsters first but they where clean, I then went over to the local pier and bought some basic squid and bunker bait. To the sand I went, I arrived on the beach a little before 2 am after deflating the tires I made my way to the surf. It was dead low tide so I was able to drive on smooth sand close to waters edge. I rode south down the beach studying the breaks, bars and rips to find the lucky spot, ended up driving to the end of ORV travel. I found what looked to be a promising spot with rips and small guts on both sides off deeper looking water and decide to set up there. I could not belive how hot it was at 2am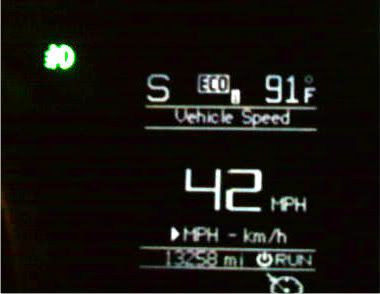 I was whipped pretty good from the long 22hrs I have been awake but could not help my self to go ahead and set up 2 bait rods. So after the tide was turning and starting to come in I was fishing buy 3 am, I had a hard time not rigging and running ever bait rod I had. I knew if I did I would never sleep so I kept it to two rods. I had talked with Lefty before coming down to see what his plans where and he was leaving Hagerstown MD around 1 am in order to make the sunrise bite, I texted him to see how he was making out on the drive also to give him my location for our last minute shark camp. Lefty and crew where on schedule and would be there by sunup. I caught some whiting but with the long day ahead I decided to try and rest my eyes around 4, 4:30. To my surprise I got a call from Alex, the other bunch I was planing on fishing with. Alex and Zane had been throwing metals in the Indian river inlet, scoring some nice bluefish baits. The plan was to get a little shut eye then I would pick Alex and crew up at the beach entrance of AI in the AM to transport them and there gear to are last minute shark camp. Plan was set so I decided I better get a little nap in.
I woke up to the black and gray sky with the tide near high. I started getting my bait rods out when Jordan ( LEFTY) and crew pulled up. After a short intro they where un packed setting up bait rods and getting the 9s ready for yak drops. Lefty had some fresh Bunker they decide to run on the shark rigs, it seemed like the arrival of leftys bunch just flicked the switch on the bite. We where catching Whiting and spot right away, the first bunker dropped on the yak did not sit for more then probably 20 minutes before I heard the loud clicks from the 9. Lefty had brought 2 guys that have never caught a shark so they where up first, with a short wind in we had our first shark on the beach... a full grown Sharpnose. Congrats Chris to his first shark caught!!!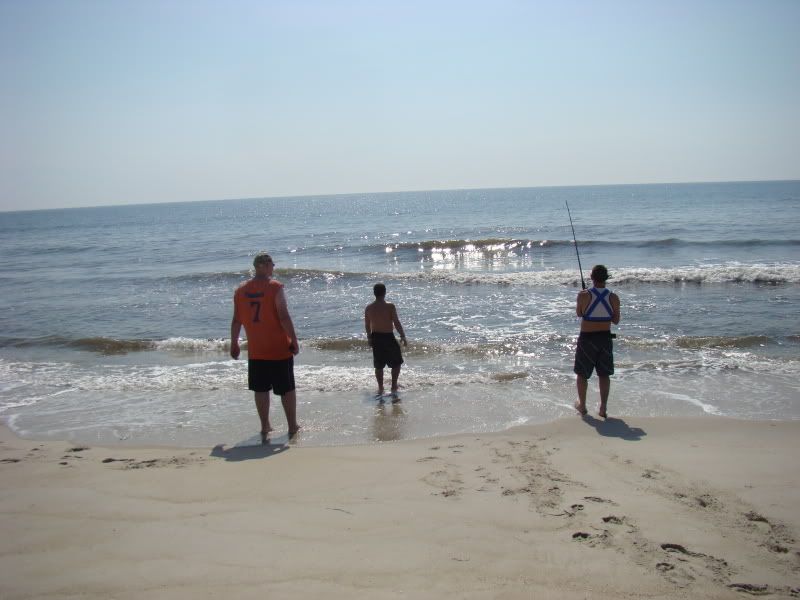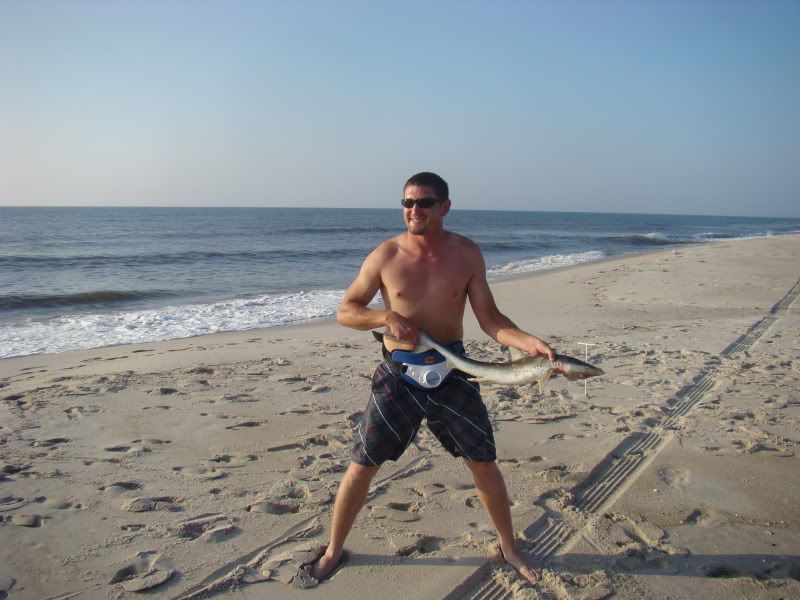 I had no yak baits yet so Chris's shark was my first. I rigged the 80w up and made around a 250 yard drop. The bite was constant with bait fish and sharks all morning. Both of the new shakers Chris and Jon got there first sharks, with a few Dusky and Sandbars making the mistake of taking the bait.
Jon
Chris
Lefty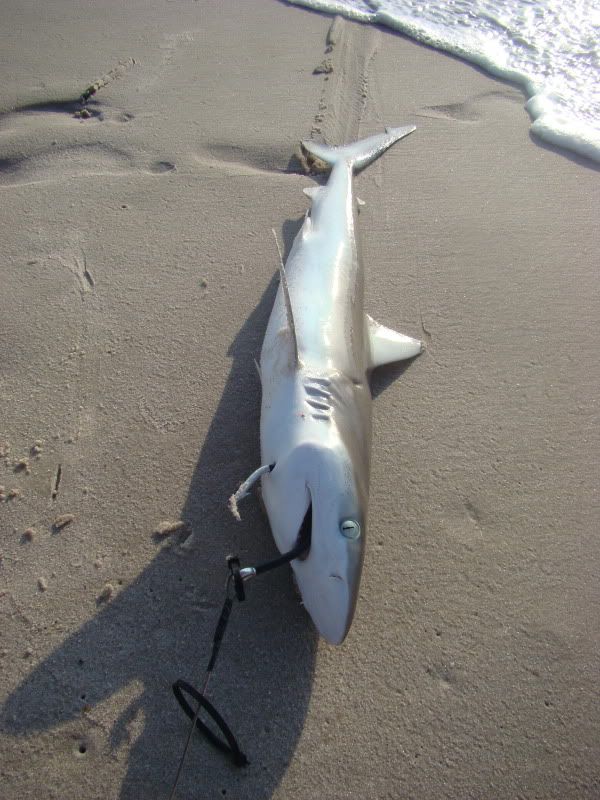 Check out this hook up LOL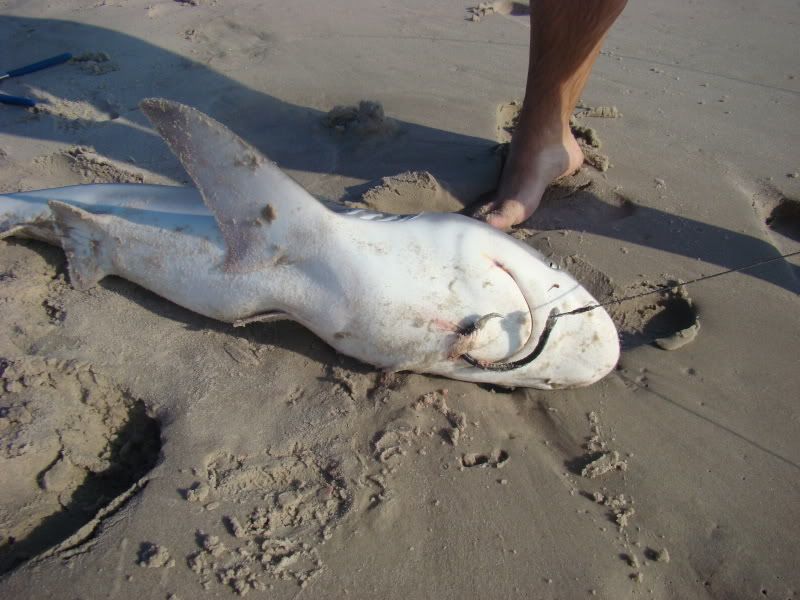 Just seeing the first sharks caught from others is worth the trip in itself.
I had talked with Alex about 4:30 am they had planed on coming down to AI around 7 am to do some sharking with us... LOL he called around 10;30 saying they over slept.LOL with a rig they had i would have been over sleeping to
Well I went out to the parking area and met Alex his wife Lidia, Zane and his girl friend Kayla. I picked them up and headed back to the camp. What a good bunch of people they where. Alex buddy I am not going to lie but when i saw your wife and Zane's GF I was a little worried because you planed on fishing through the night. Ladies don't take this wrong but I dont know many women that have stayed on the beach that long their first time with the man eating horse flies, skitters the size of birds and very minimal supplies . Lidia and Kayla you all are troopers and I hope you enjoyed your first shark catches. Hope to see you both again... Ok back to fishing...
There was a lot going on but I think in total we had 6 shark rigs yaked out and I really cant remember more then 30 minuets of silence before we would here clickers just singing my favorite song.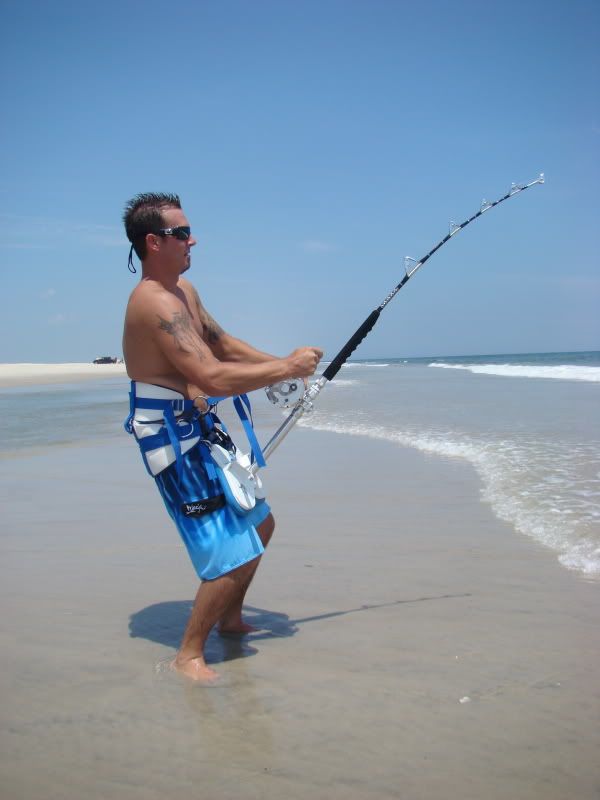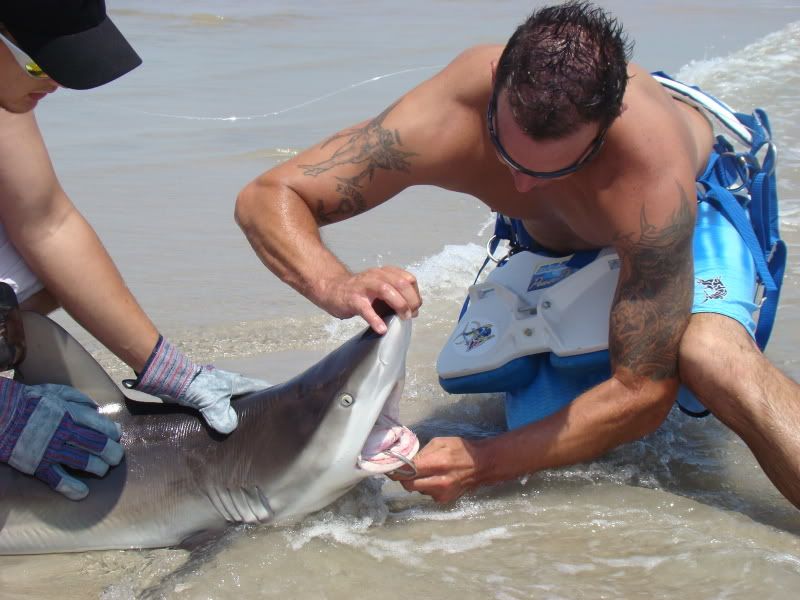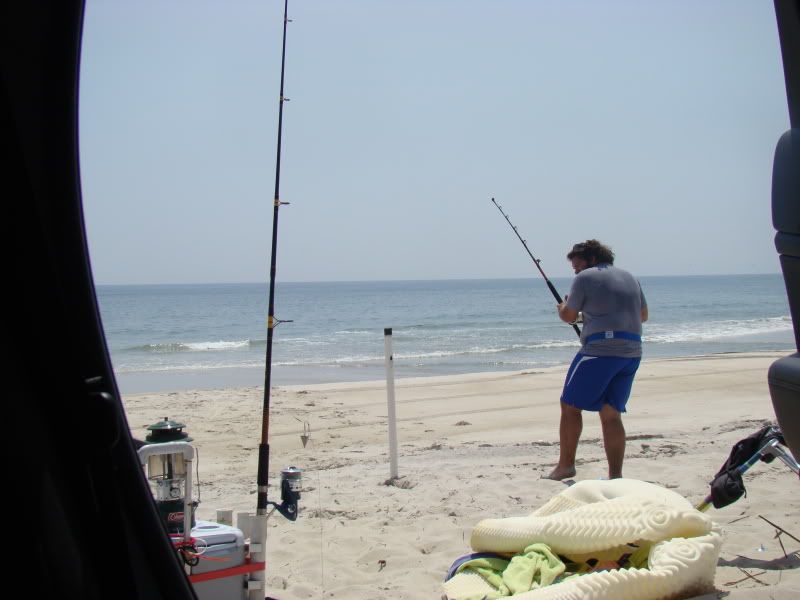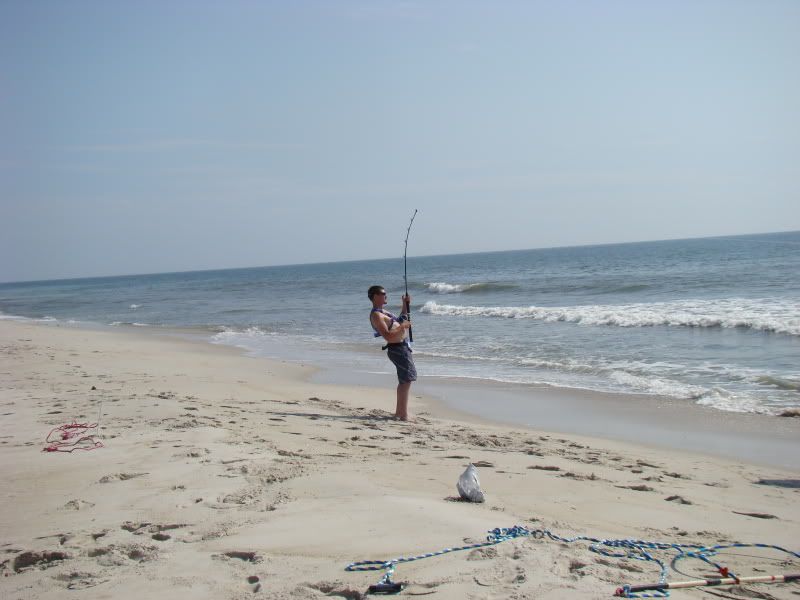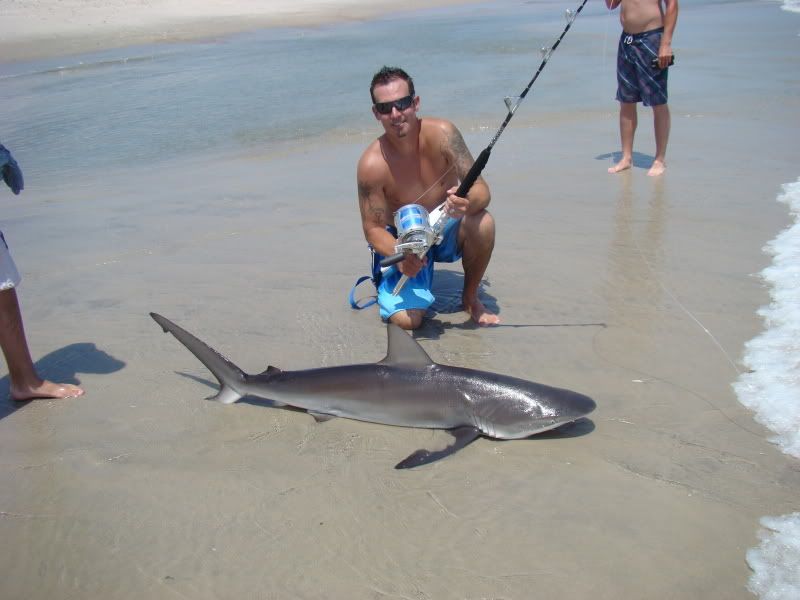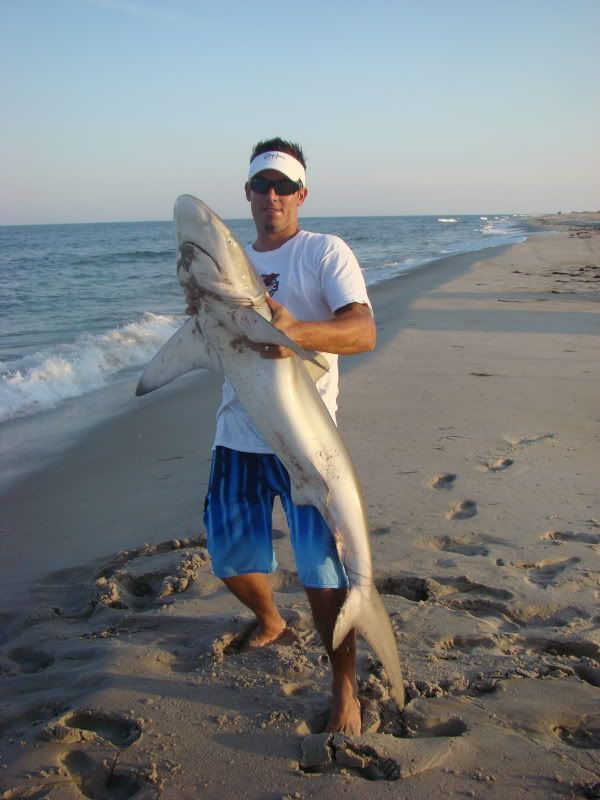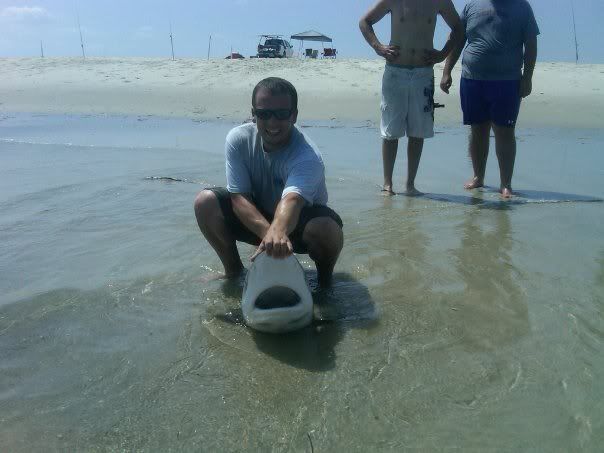 Lefty was running Bunker and whiting, Alex was running the blue fish from the night before and I was running a long grey thing with spots and teeth. Between all the rods out, kayaking baits, rigging baits, swapping stories, beaching sharks, bait, and rays Oh and a few cold ones in between, I dont think I sat down at all besides in the kayak to drop a bait LOL
The bite was awesome we had big rays little rays, bait fish and sharks all day.
Lefty got close here, Haha Jordan, you did not think anybody saw that did ya??? I got it, as I was laughing with ya.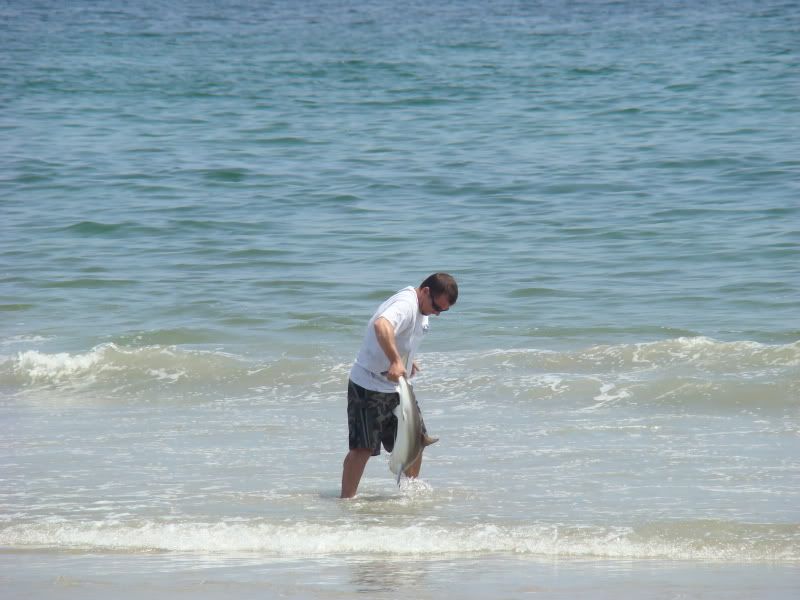 Lefty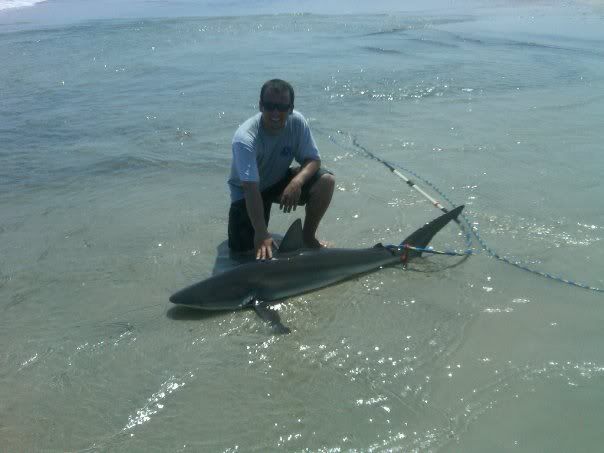 ME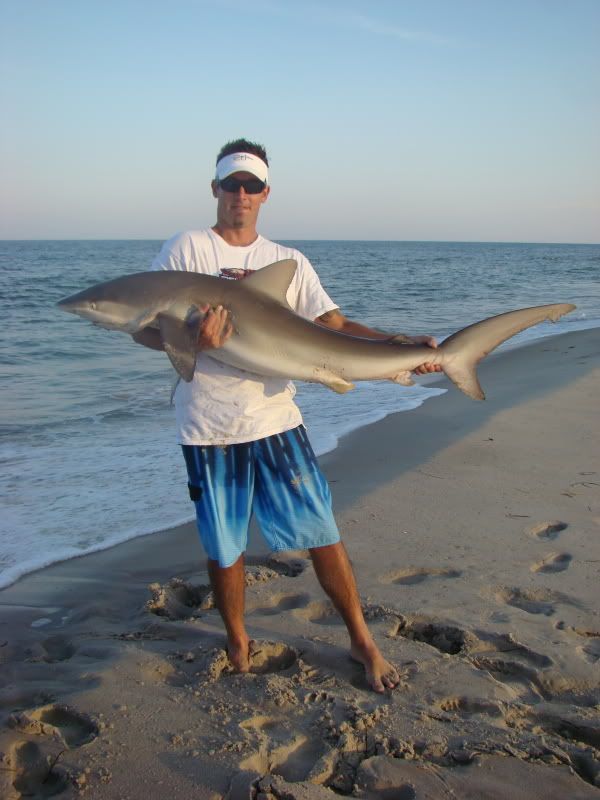 Zane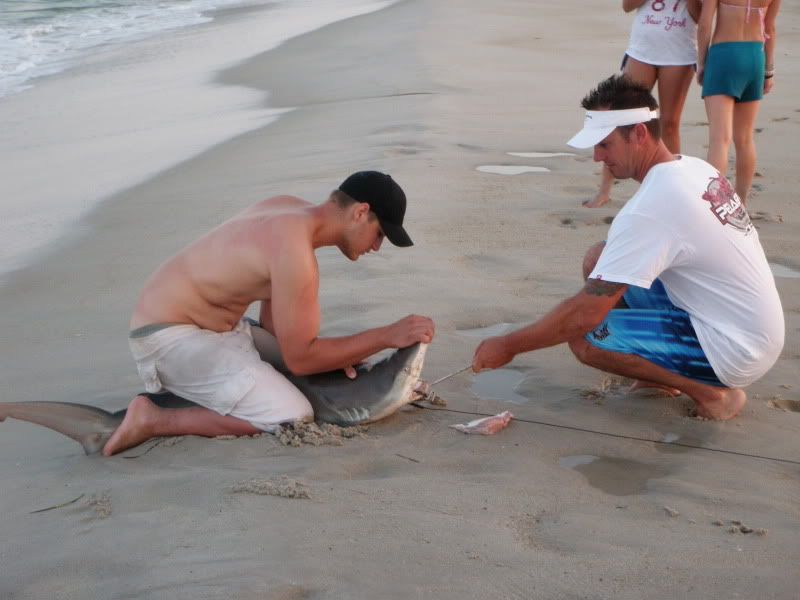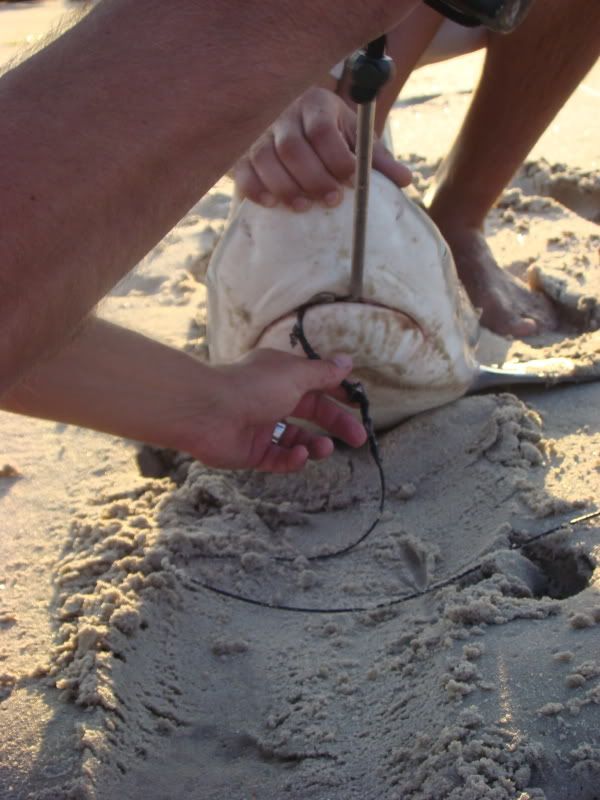 Lydia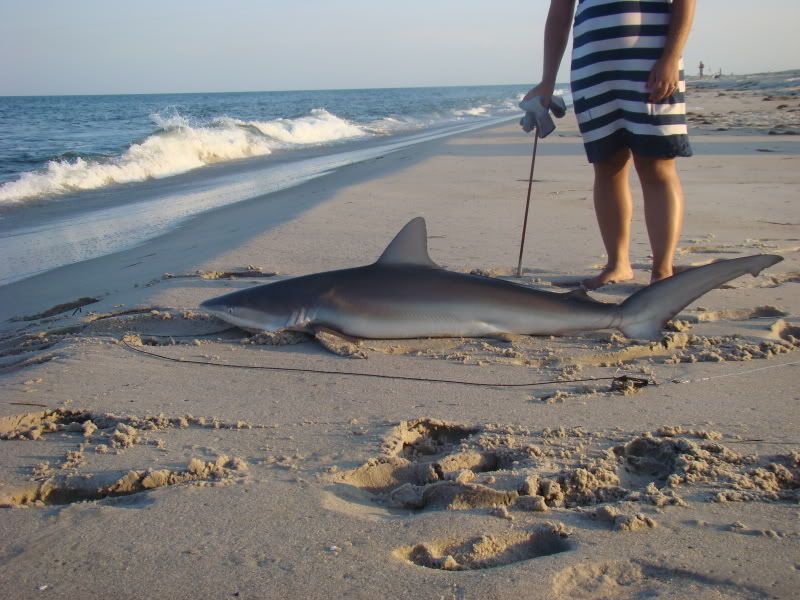 As the day went on Alex and Myself decided to run out and grab some pizza,Ice, wobbly pops and stop at the marina to dumpster dive. Ended up scoring some beautiful Tuna and dolphin. We where back on the beach by 5. I scarfed down a slice or two of pizza and was back at it. I rigged up the 80 with a blocker big tuna head combo, rigged 50 with blocker, slab of ray and made a double drop. Lefty had fresh cut baits and ray on his shark gear. Alex had a nice piece of ray hooked up.
Well with fresh baits run, tide on the incoming and sunset not far out we where ready to go. Correct me if I am wrong but i believe at one point in time we had had triple hook up... This brings me to Chris, this man has to have the worst consecutive luck in a row I have ever seen. Chris had some great fish pull the hook in the wash, I think it was 5 in a row he lost. Lefty and myself saw nothing out of the ordinary, he had great runs, gave the fish time, insured hook set and did a great job with the fight. They got your name on them next time!!
The night went on and the constant action kept us all busy, just when it seemed like the bite would slow and we would actually sit down for a second. I tell you what I have seen some funny stuff happen on the beach but Zane you really had me LMAO. Zane is a catfish man with rod and reel set up for just that. Zane decided he was going to throw on a chunk of sting ray on his smaller spinning set up with 65lb braid and a short mono fish finder rig. This rod was about 30 feet from where we where sitting when all of the sudden we looked over to hear his rod screaming and folded to the sand. Zan made the mad dash for the rod only to pick it out of the rod holder to see about 10 wraps of his mono backing under the braid, LOL he took off running toward the surf and because he was freaking out he tip wrapped the line around the guide, the rod bent and pop!!! it broke off, well got bite off. Lucky he had mono for a bite leader because he would have been swimming with his rod or buying a new one that took the trip to Davy Jones. Zane you are the man!!!! that was freaking awesome to watch, I am sure if it happen to me I would not be laughing, I am sure glade you thought it was as funny as I did.
Zane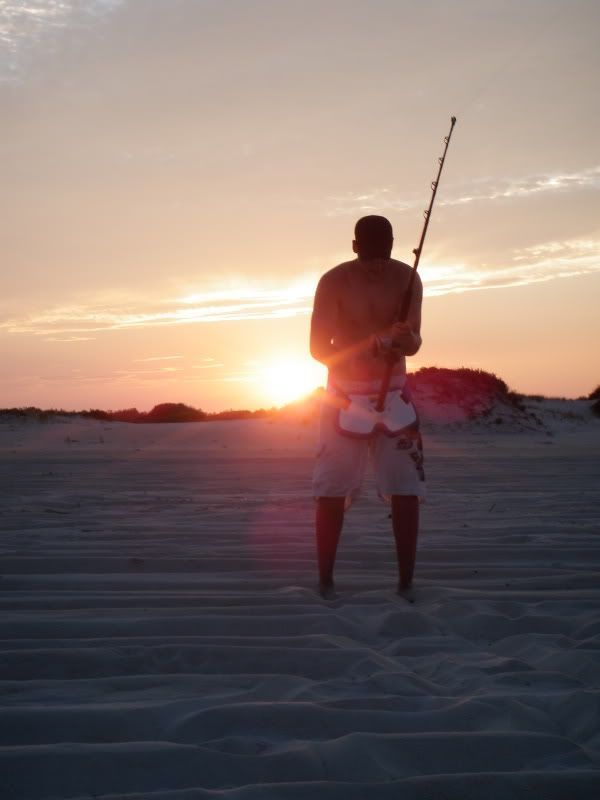 I could not keep track of how many fish we hooked but after talking with Lefty Jordan and Alex I came up with 21 sharks hooked in about 14 hr time. It was just a great time with new friends.
The night bite on out going tide actuality started to slow, we had a shifting wind which brought in some light grass and dirty water and "I think" it slowed the bite. We did have some small bites and hooked some good fish. Lidia was up on the next to fish and as the Alex's reel started screaming she was belting up to fight when I heard a grunt from Alex as I heard drag being peeled from his 9, I looked over to see Alex doing the two step toward the surf. Lidia's eyes got big as Alex and my self looked at her and with out a word said... her face and eyes told the whole story... they said i want no part of that shark LOL. Alex caught a beautiful Dusky shark in transformation from normal 5 foot skinny shark on the fast trac to beeing a a big boy.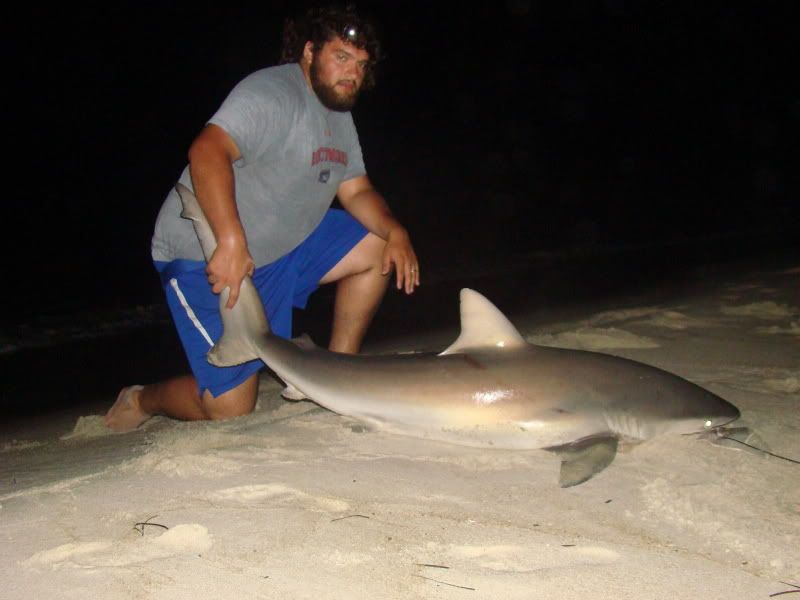 Alex buddy, I really think that was the biggest Dusky I have seen from the surf. Here is a great picture. Congrats on an awesome fish.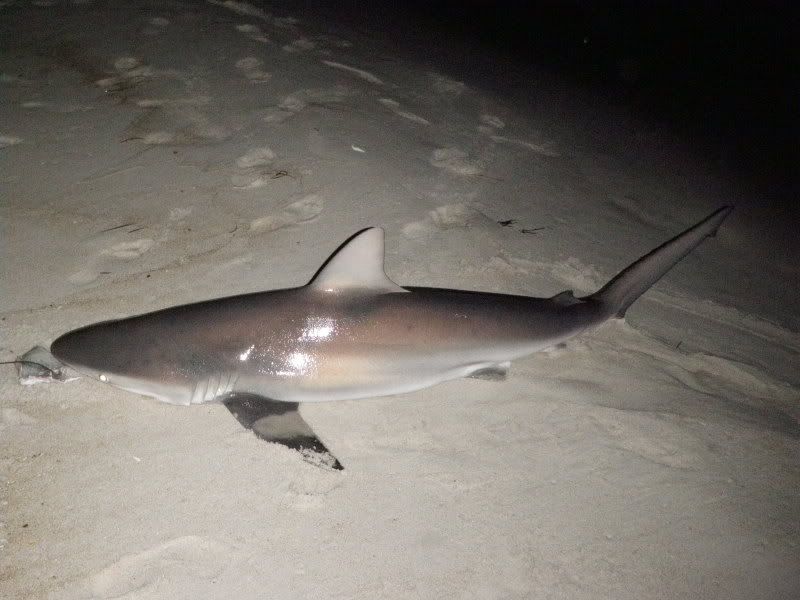 As Zane and myself where running more baits out we got to see things that the land locked people never see. There was a ocean full of glass minnows and ever time your paddle or light hit the ocean the glass minnows would launch in to the air creating light flickers, there was so many of them that they were jumping right into the kayak hitting us... It was awesome and a little sketchy at the same time, glass minnows filled the cup holder between our legs, it was really cool.
Ok Kayla was up next as I heard my 50w rolling, I had a just put the blocker rig and ray chunk out and it got smashed in under 20 mins of soak time. Kayla did a great job behind the rod, even though the fighting belt was way to big causing her to man up and fight it pretty much with no belt. She ended up with a nice first shark beached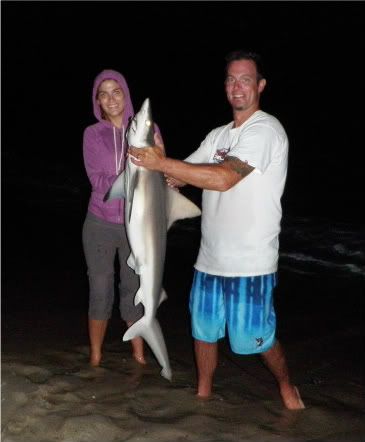 It was starting to get late and I was beat, I was just looking for any reason to sit down but like I said, if I did sit it was not for long, either Leftys rods where screaming or something was getting me up to see whats going on. I know Lefty had hookup after hookup and we had bait rod bites, or shark rods going.
The only bait that got a long soak was the big tuna head I had out, I was dropping new baits and when I arrived back to the beach Alex told me the 80w rolled for a second then stopped. I walked over to check the tension something was off, the line was taunt but I had a slightand I mean slight bounce in the line. I went ahead and started to do a slow crank, stopping to feel the line. Something was off and I told Alex that this was either a real lazy Sandtiger that ate the whole Tuna head, Blocker and all as I just steered it to the beach. Or it was a big grass ball, horseshoe crab snag or giant spider crab. I bet I had no more then 6-10lb of drag with the rod still in the sand spike for 90% of the wind in, the only reason i straped in was because the tide was out causing waters edge to be 40 yards from the spike. I walked down to the beach flat when out of no where I git a pull, I knew right away that it was a lazy Sandtiger, I bet this fish was no more then 50 feet off the beach when it finally did not like where it was at. Buy this time my trace and swivel where out of the water. Lefty made one wrap on the leader when you could see the double dorsal, as he pulled the shark on the flat the hook just fell out of his mouth. It was a perfect hook, u sally you get something out of these lazy sharks but this has got to be the worst one ever, I could have caught this fish with my daughter barbie pole. Oh well it was cool to put one on the beach.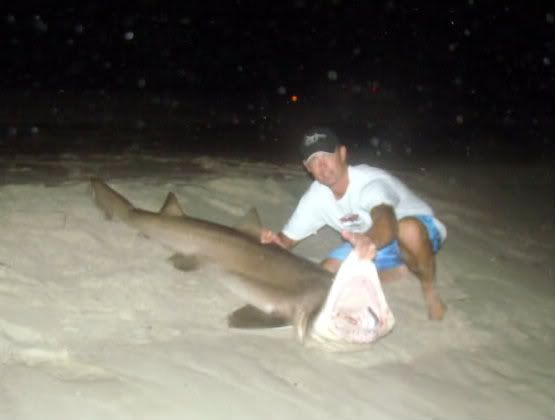 The trip was truly the most sharks I have ever caught from my hometown beach. I want to thank Jordan aka Lefty for saving me a great deal of time by not having to go back in to OC and picking up a kayak. He let everyone who wanted use his kayak... Thanks Man!!!
Alex and crew I really hope your first AI trip was fun, but.... I just want to give you some warning, the shark bite on AI is not always that good. Alex i do believe you put a smackdown on the skunk you claimed to carry on your back, LOL Zane, Kayla and Lidia it was great meeting you and hope to do it again.
Jordan (lefty), Chris and Jon it was great fishing with you alll and I expect we will do it again. Chris you have some sharks that have your name all over them LOL
Guys I never did get this edited so sorry for my terrible writing, once my wife edits, it will be even better and probably make more sense LOL