My wife and I took her friend KR and Mike out to the beach, whom both did not believe there was sharks where they swim.
Of coarse with the ladies we had a late start and did not arrive on the beach till 2 pm at dead low slack tide. Thanks to my wife who did a little dumpster diving while out picking up some food for scoring 2 tuna and some skins. I was a little unprepared because the only thing I had was some dried up fish bites
I got the bait rods out thinking I could work the food chain quick by catching some whiting then some small Sharpnose and ray for bait
Not even a nibble for 2 hrs. I did get some time to try out a Drifter yak, long story short, I hated it
thing was a wet ride, took on way to much water and took for ever to drain out... Stable yes, but good surf yak, no way!
Ocean Kayak the Drifter.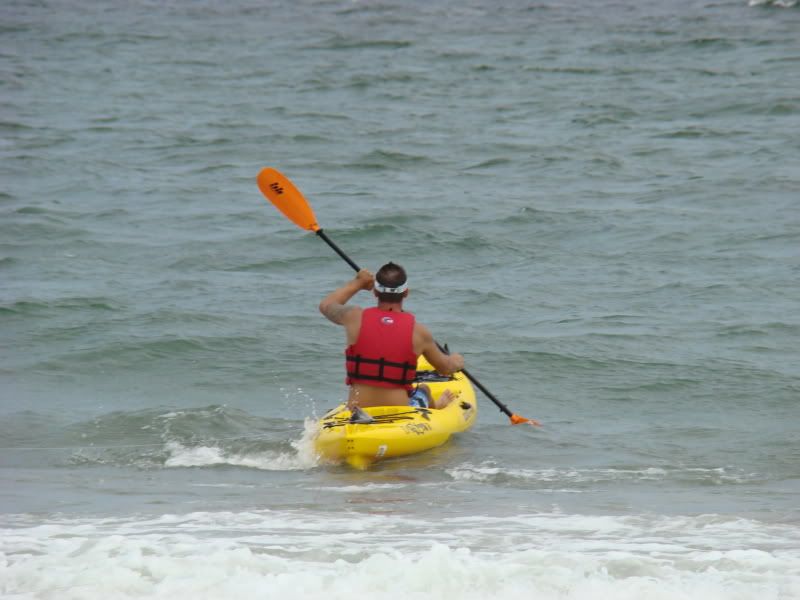 Rigged the 80 with a big Tuna head, 50 with Tuna skins, spinning setup with tuna chunks.
Skin bait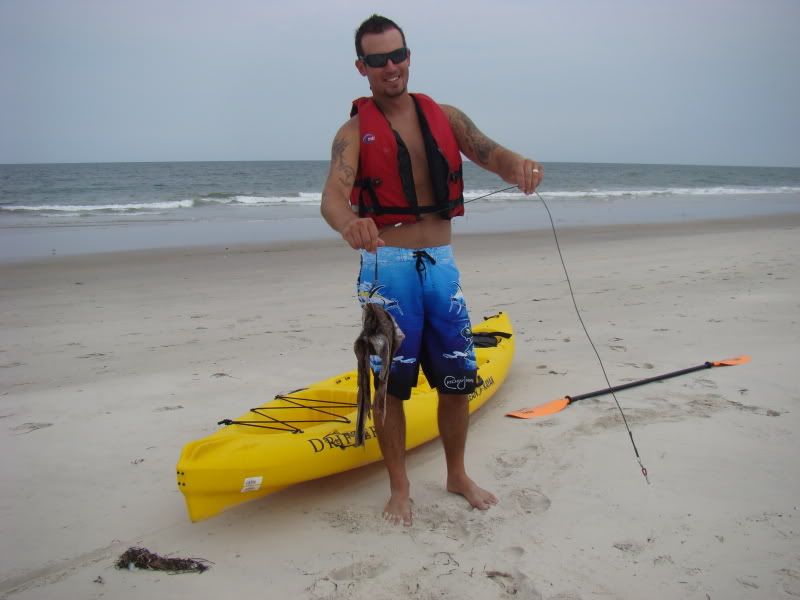 Mike was first up. The tide was now coming in skys where cloudy, sunny, cloudy and sunny, but it was not long before I heard the 50w song. I got a good hook up as Mike was belting up.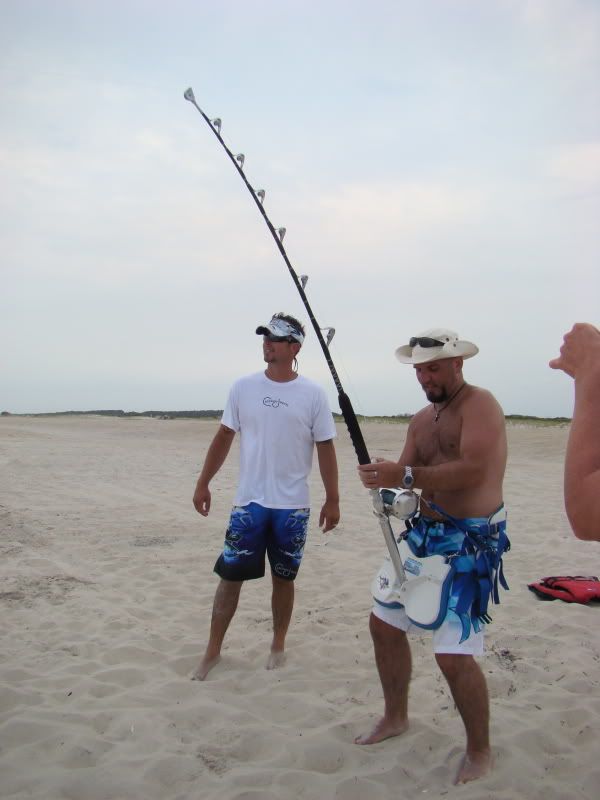 He gave it hell and was going off that he was going to catch his first shark and from the beach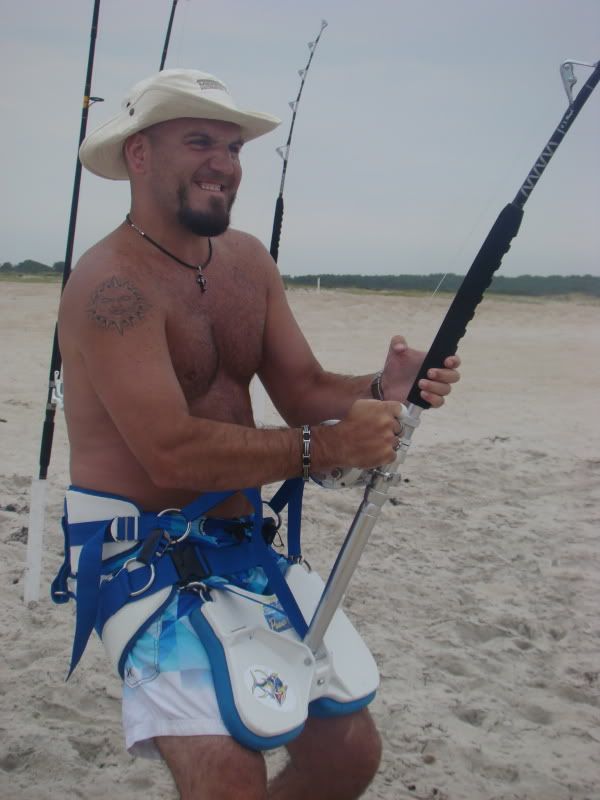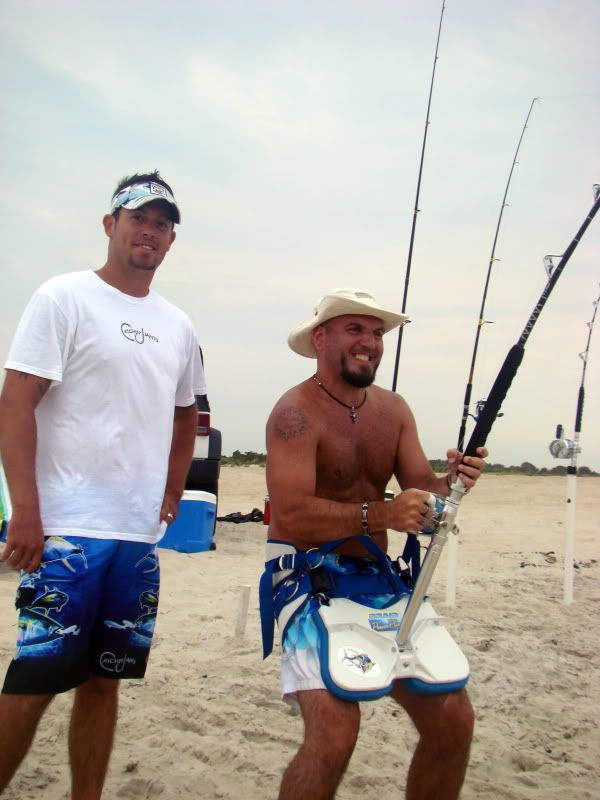 He lands a nice Dusky.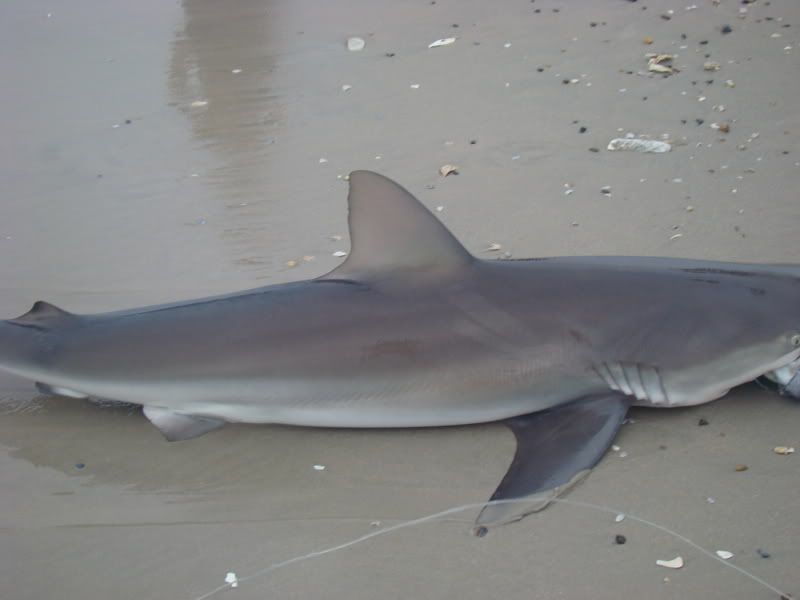 Quick dehook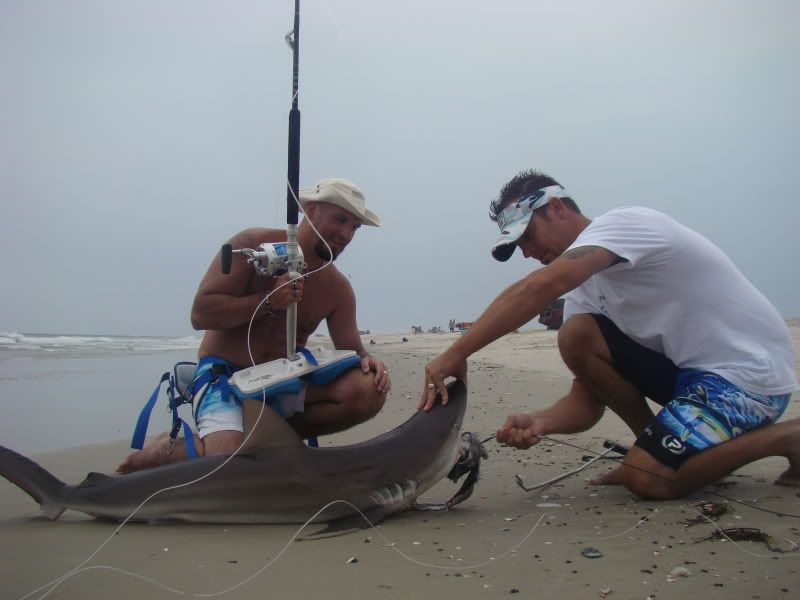 I yaked the 50 back out and as soon as the yak hit the beach I heard my high pitch drag on my spinning rod song. It was a really cool fight with strong runs. I got most on video that I will try and get up but heres a few pictures.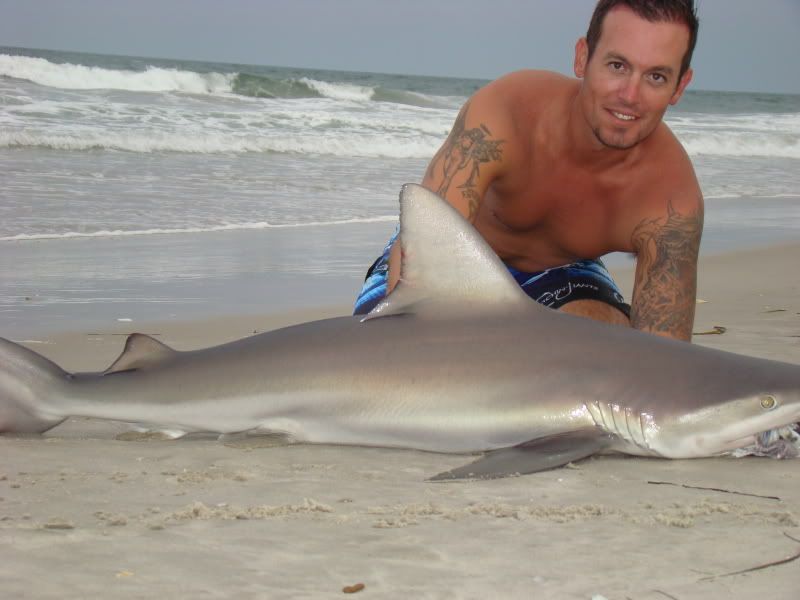 Next up was KR and this was a trip
the video of her winding with 2 hands and blaming greygoose for her lack of balance in the harness was awesome.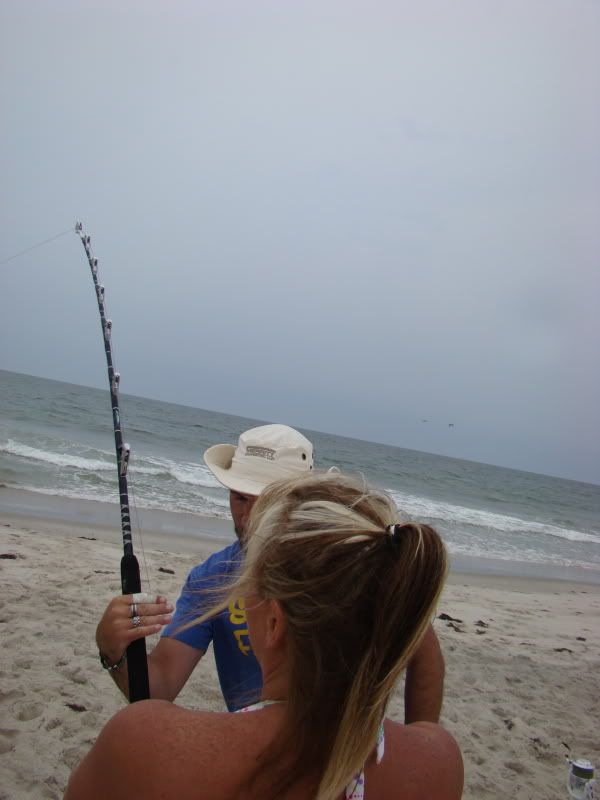 KR did a great job for her first ever shark. Nice Sandbar and this girl, the shark not KR was frisky, I could watch her eyes look right at me as i would go for the hook and she would swing around and bite like a snake would.
Ok now my wife was getting mad because she is usually right in there picking the sharks up or fighting with them but sense she is pregnant I would not let her. Well she was next up and going to show Mike and KR how to whip a shark.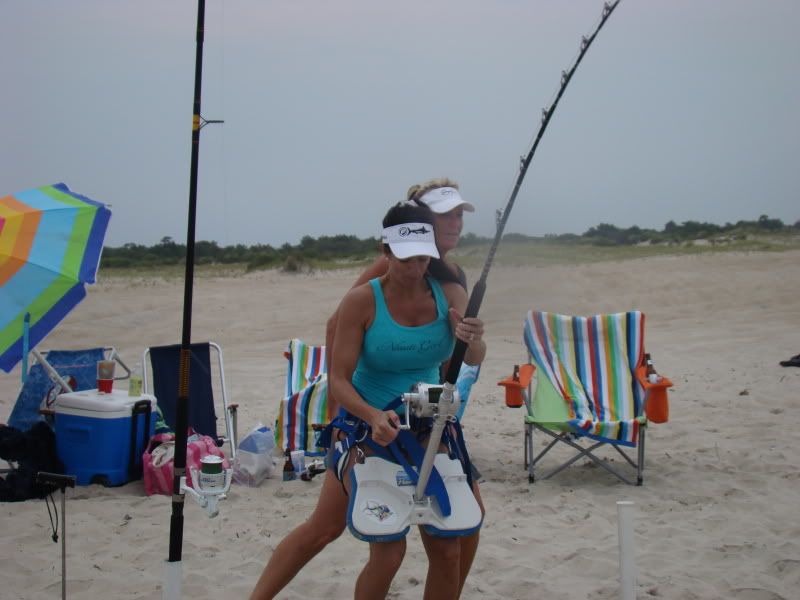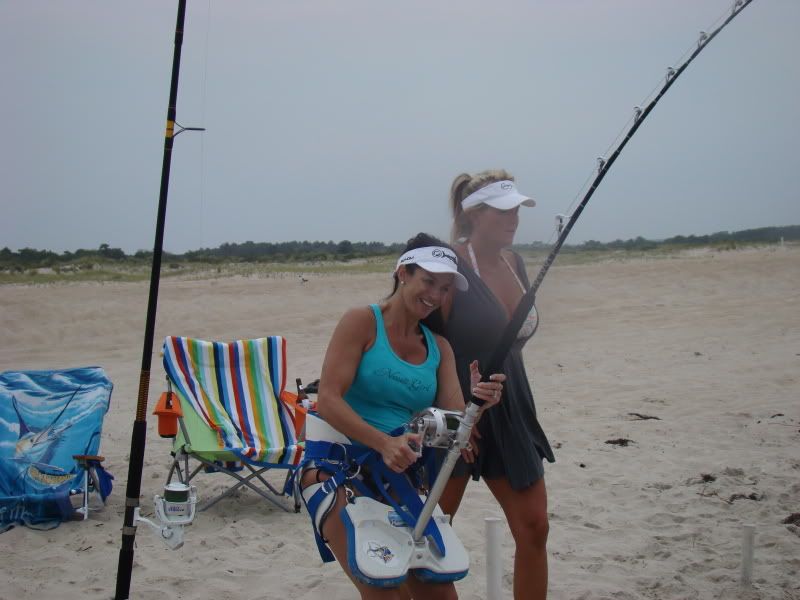 Well she did and was loving every second she beached a Dusky about as fast as it can be done.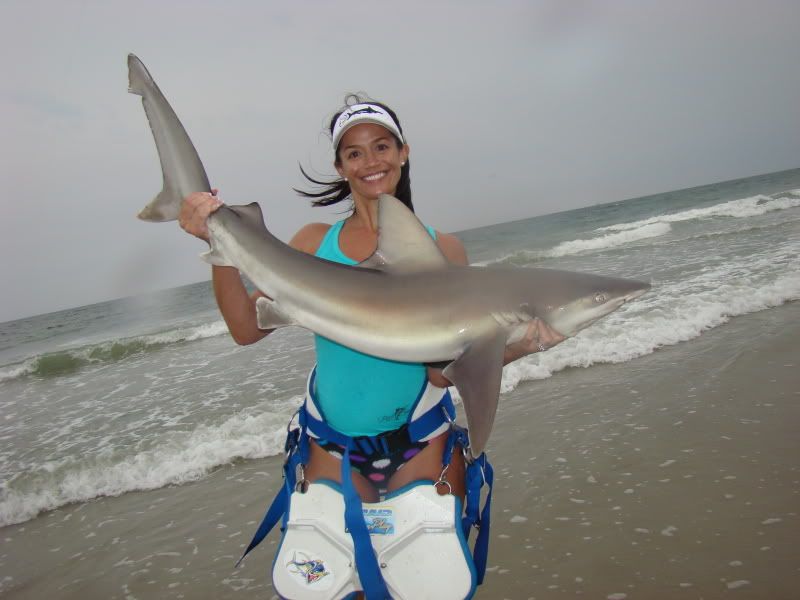 and yes she had to pick it up.
im not
Well we ended up catching 5 for 7 sharks in a short time so everyone was happy. the big Tuna head never turned a click, and the bait rods never even bounced, I am glade we got sharks.
The group at dinner after the shark trip.
Couple random pictures
KR would not even help me release her shark... it was mad! LOL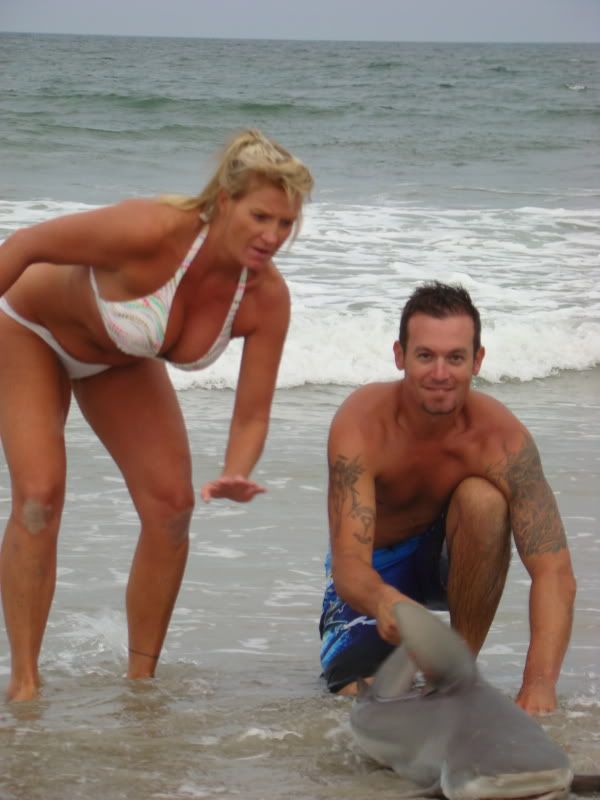 My wife Trisha and I... cant forget about my growing little man Steele he should be around 17oz now.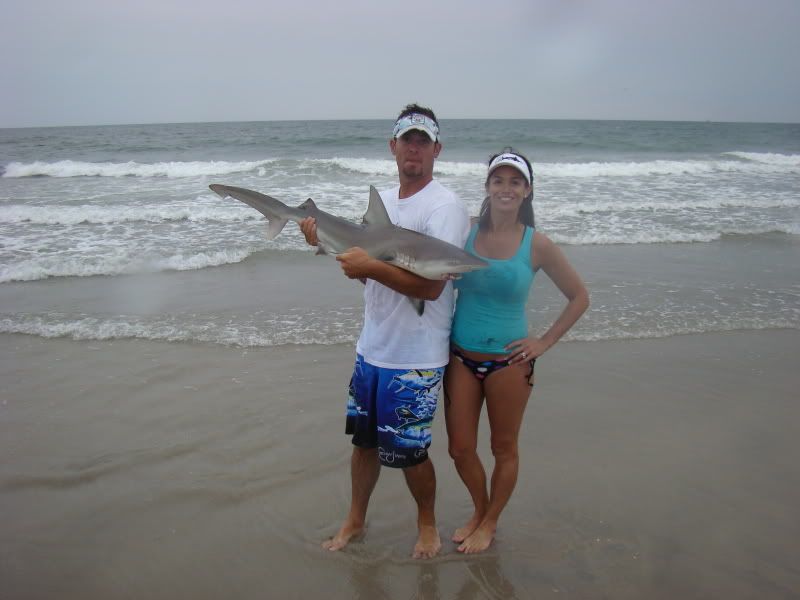 cool release!!