Thought I would bump this back up, lots of new guys here. Its Sand Tiger time now and this works.
Here's what I got... I see a lot of guys doing good things to protect sharks from getting gut hooked by using circles, using smaller leaders and using break away weights to help save sharks.
I have had the opportunity to fish and become friends with one of the most respected shark fisherman on the east coast (Mark Sampson). Mark introduced this rig to me called the Blocker, it is designed to never gut hook sharks by blocking the shark from swallowing hooks. Like me I am sure some might be sceptical about trying this out, but it works. I have caught sharks on it and with the research of Mark over the years the hook up and takers is no different then not using it.
The Blocker rigs consist of either your normal single strand wire or cable leader and some PVC pipe. The pvc pipe is used in either in 9" long for smaller sharks, 12" for medium sharks and for giants like Tigers with there huge mouth the blocker PVC would be 24". The critical thing in making the rig is the distance between the hook-eye and the pvc blocker, for the smaller sharks
it works
good around 4" away from the hook and for both medium and big boys around 7" from the hook eye. Cut the PVC to length then drill a small hole through the center just big enough to get what ever size leader/ cable through. If you use cable you can use crimps on both side of the blocker at the correct distance to hold it in place and if you use single strand you can use a special hay wire twist to hold the PVC in place (crimps will slip). Pictures will show you in detail.
I think the guys that hit the Sand tigers hard on the east coast will get the most benefit from these rigs, but as you will see in the pictures IT WORKS on a lot of fish. There is plenty of ways to tweak this a bit to make even better then it already is and Mark and my self would love to hear your ideas. All you guys that like catching sharks and want to continue to do so for a long time...
this rig saves sharks
.
Hope you all like it and are willing to build at least one and fish it. Enjoy the pictures any questions don't hesitate to ask.
C
ATCHIN
J
IANTS
Check out this...
http://youtu.be/upxpfgh7Dxc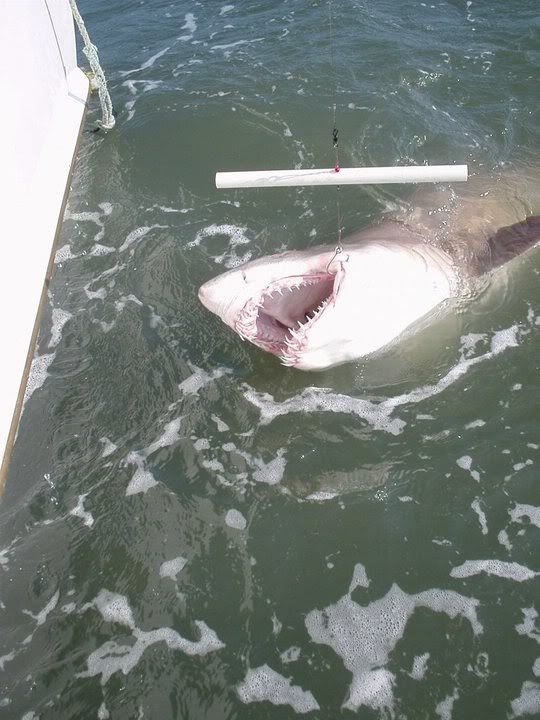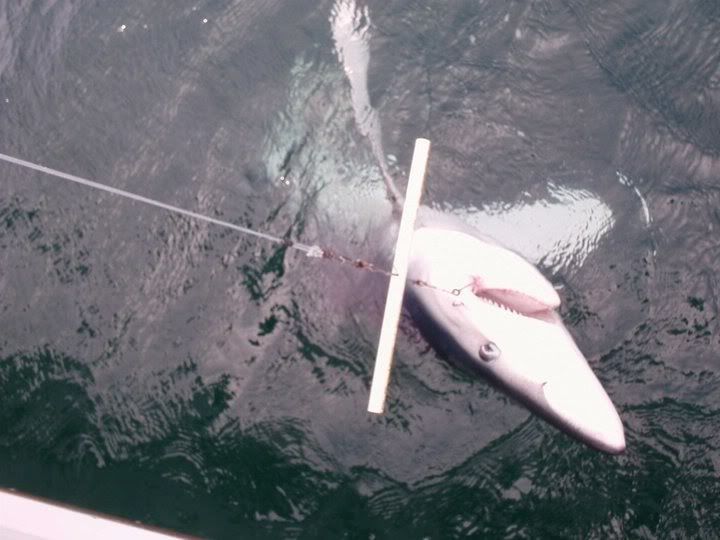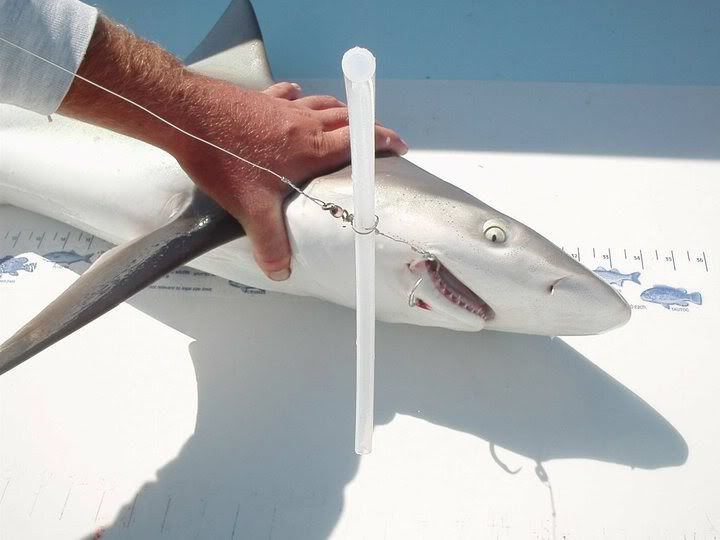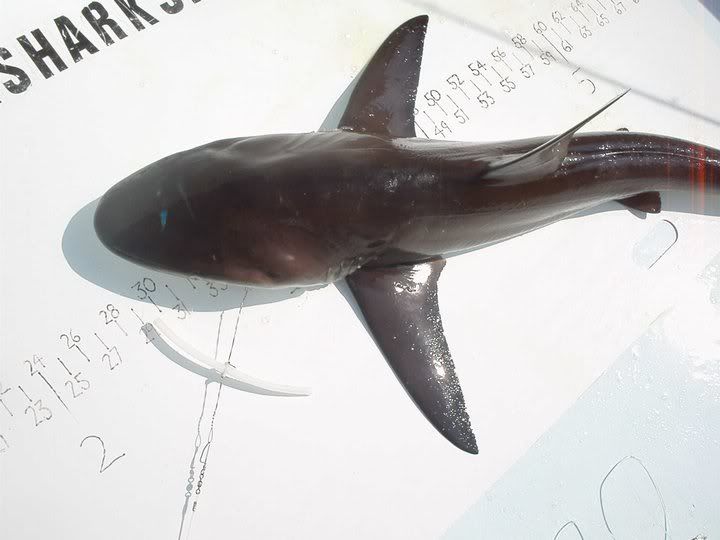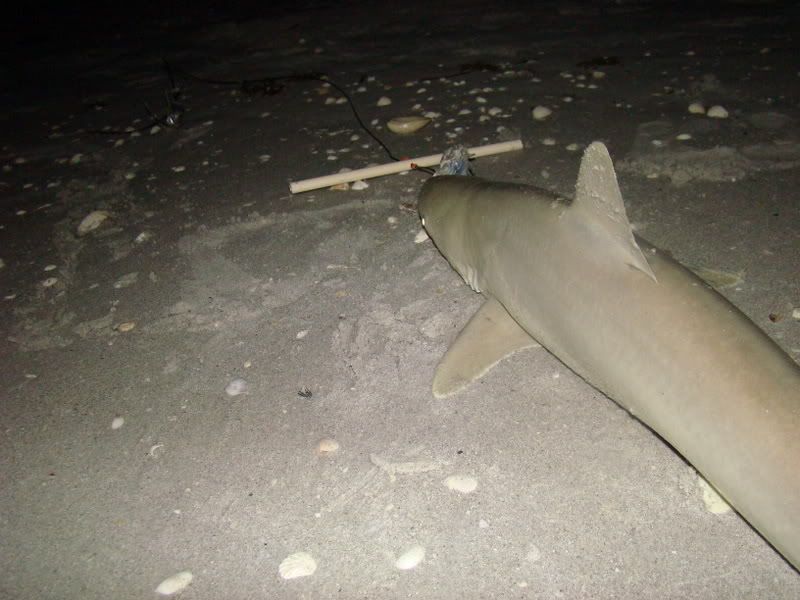 img]http://i876.photobucket.com/albums/ab326/cjfloyd/DSC02591-1.jpg[/img]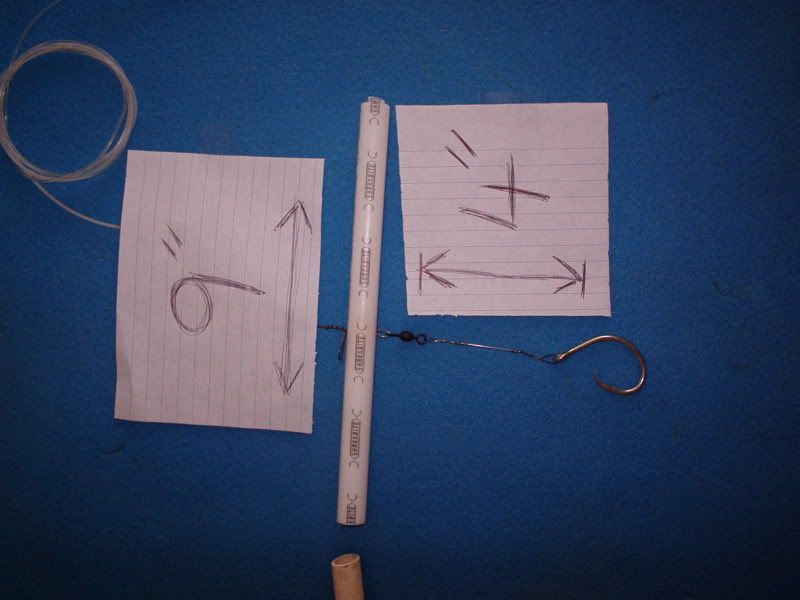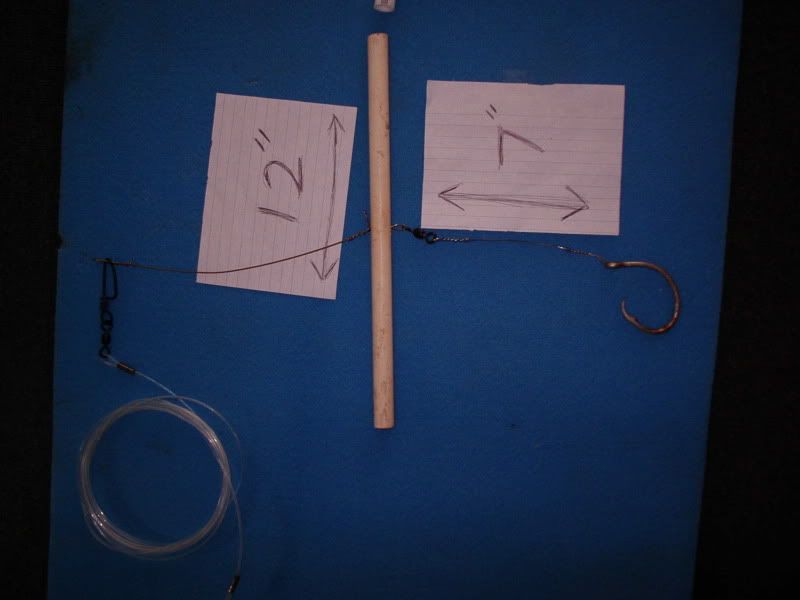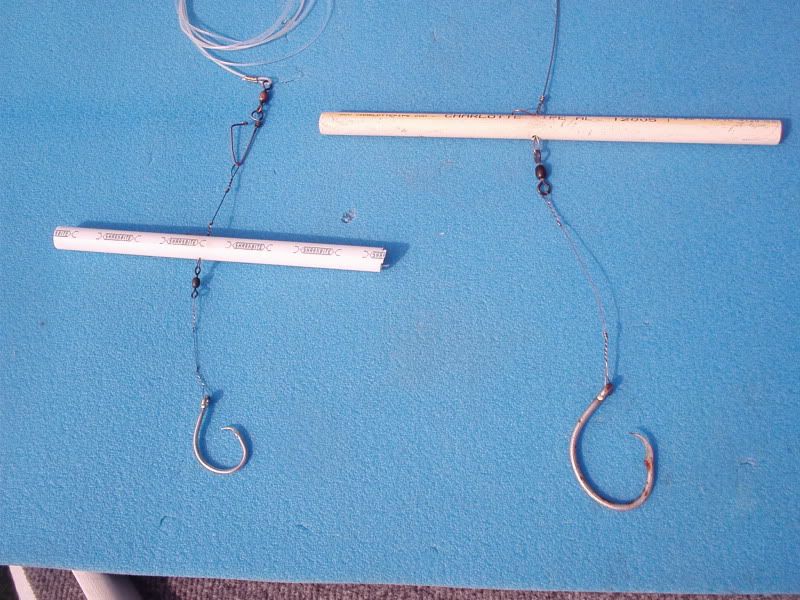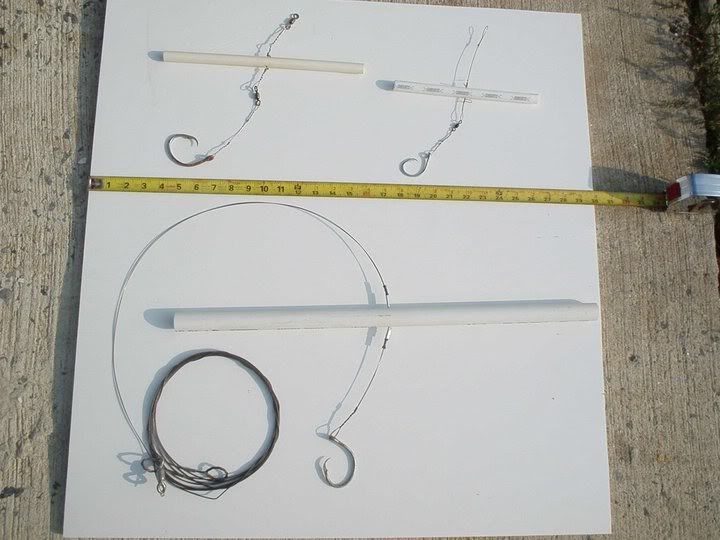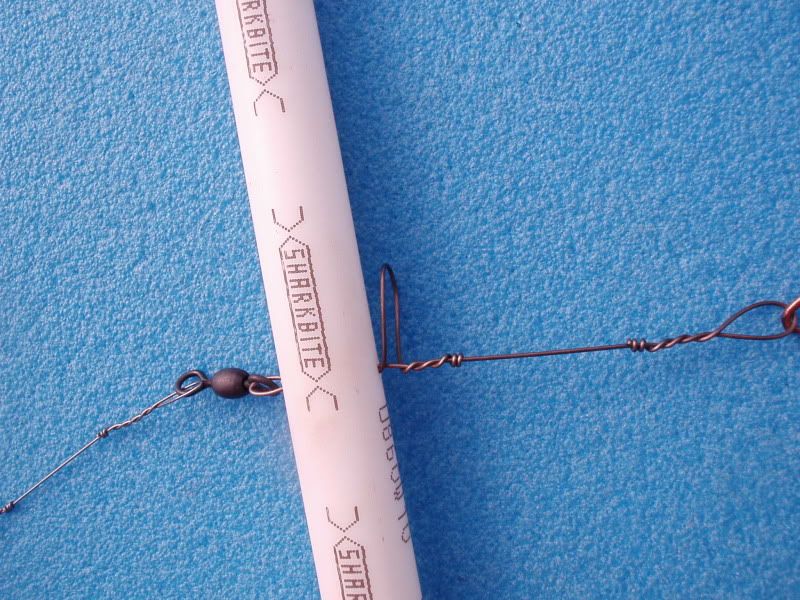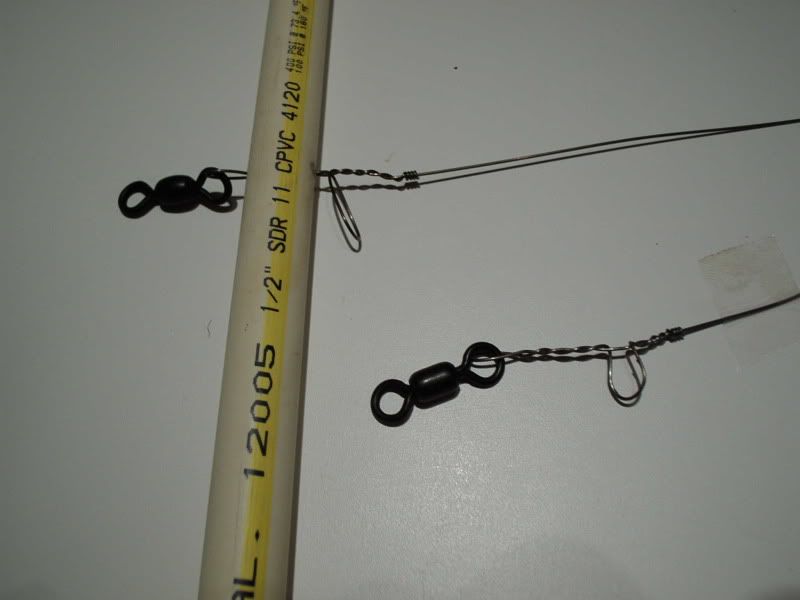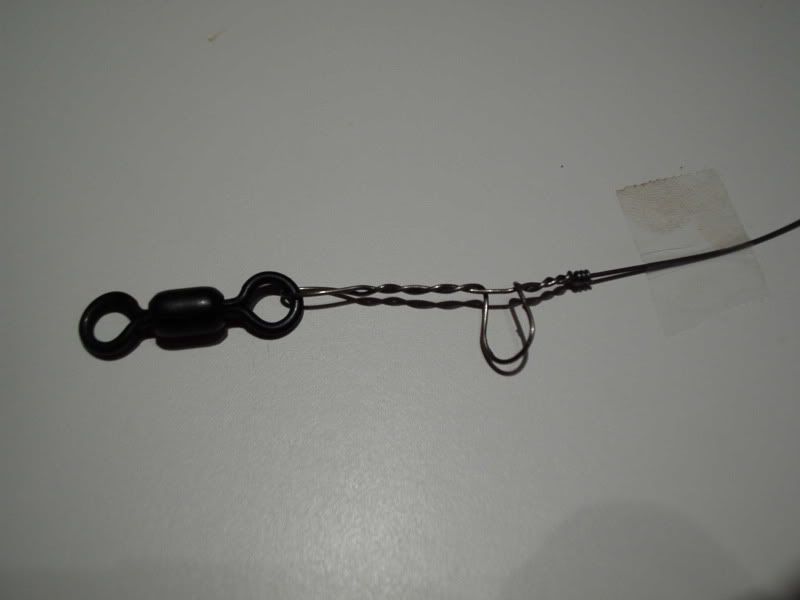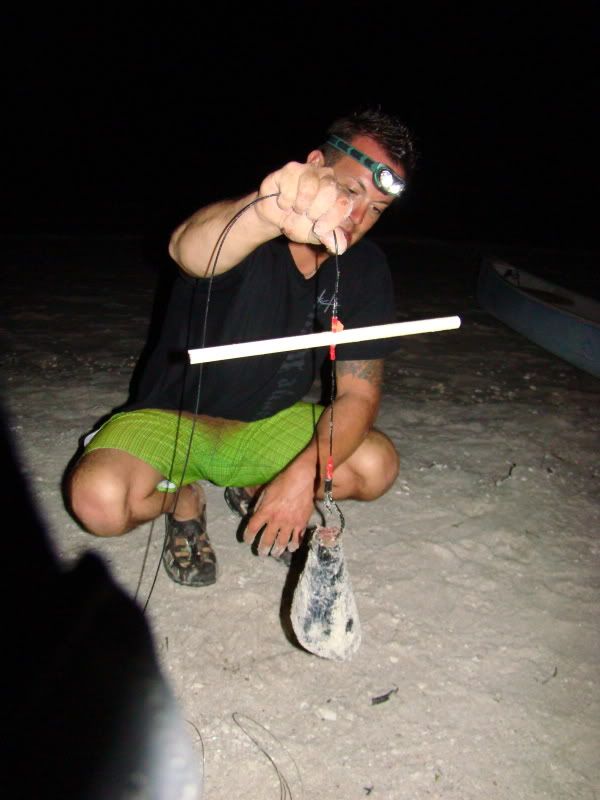 Try them out and have fun.
Heres the newer style, this is very easy to work with and it will break away much better. I took and just put a stop crimp on a basic leader at the 7 inch mark, then cut a slit in the PVC with a saw. This way you can take the blocker on and off easy, I used a rubberband to hold it in place so it would not come off or slide down towards the bait. It seems like it will work good heres the pics.